High Technical Prowess
Our semiconductors are widely used in diverse fields from daily-used electric appliances to space development. With the top level technology in the semiconductor industry that we possess, we fabricate semiconductor LSIs, including low-powered microcontrollers, wireless communication LSIs and display driver LSIs. In addition, there are some products that only LAPIS Semiconductor Miyagi Plant is able to develop, thanks to our unique and superb capabilities which support Japan's science and technology development. Allow us to introduce our high technical prowess.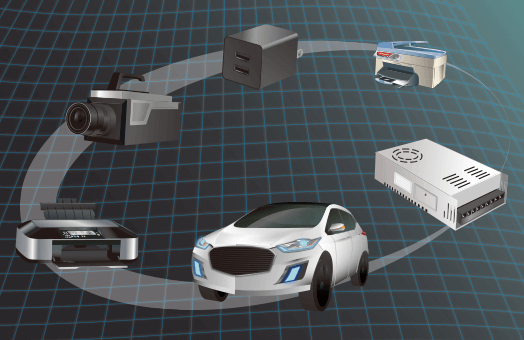 Technology

Only one product
Top Level Technology in the Industry
The products manufactured at our plant are mounted to car navigation and LCD TV displays. Allow us to introduce our high technical capabilities that you can find in your daily life.
Low Power Microcontrollers
Establish top level performance of low voltage operation in the industry

By means of our original low power technology, we produce low-powered microcontrollers with embedded flash memory that operates with low power consumption at 1 voltage. This technology enables microcontrollers to continuously run for more than 10 years with a single dry battery. They are embedded in various electric appliances.
Wireless communication LSI
Top class performance and richest product lineup in the industry

Wireless communication LSIs that we manufacture abide by standards of smart meters in Japan, the EU and China.
We provide a variety of LSI lineups in accordance with the usage environment in the world.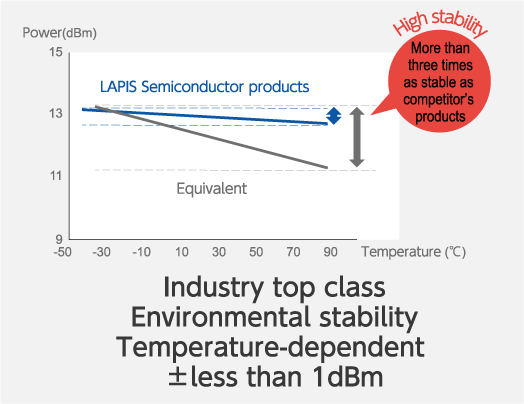 Display Driver
Top class performance and product lineup which covers a broad range of applications from consumer products to car components

Large, mid-sized and small display drivers for large TV sets, PC monitors, notebook computers, tablets, industrial devices and in-car displays are produced at our plant. Display drivers make high-definition, high-speed and colorful image display possible by controlling the amount of red, green and blue light aligned in a matrix of display.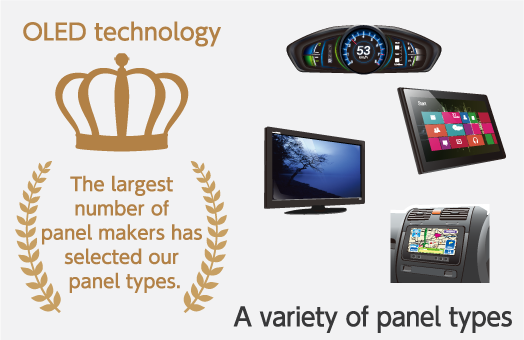 Unique products that support science technology
By incorporating unique ideas from universities and research institutions, we have been dedicated to our own technology development unmatched by any other competitors.
Let us share with you our unique products that make our customers happy.
SOI-Applied Products1
Mounted to all JAXA satellites

Radiation-resistant microprocessors with SOI※special process are mounted to all JAXA satellites. There are hardly any malfunctions in space.
※SOI : Silicon On Insulator
SOI-Applied Products2
Supply x-ray sensors to synchrotron radiation facilities

We supply x-ray image sensors indispensable for various researches for synchrotron radiation facilities, including SPring-8※1 and SACLA.※2 Being equipped with sensors for extremely bright x-ray beam enables to visualization of molecular fluctuations that otherwise would be impossible.

※1:SPring-8 (Super Photon ring-8 GeV): Synchrotron radiation facility
※2:SACLA (SPring-8 Angstrom Compact Free Electron Laser)X-ray free electron laser facility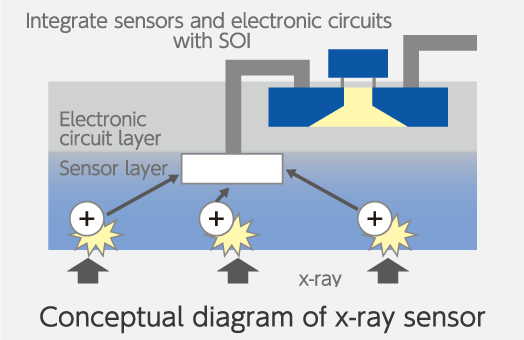 Conceptual Diagram of Spectral Imaging
Sensing various wavelengths with a single chip

Sensing device applicable to diverse wavelengths with a single chip is the product of a joint development with the Tohoku University. It detects wide-ranged wavelengths from ultraviolet to infrared rays, making compact system configuration possible.