In the Wake of the Great East Japan Earthquake, Anti-Quake Measures Have been Beefed up.
In the 2011 disaster, water and electricity supplies were disrupted and our facilities were partially damaged. Based on that experience, our own water and electricity supply systems were put in place, and seismic reinforcement measures with quake-absorbing structures have been adopted.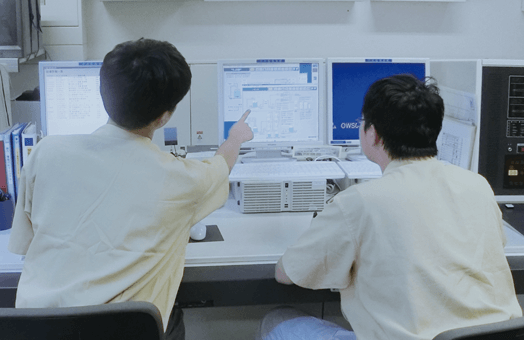 Earthquake countermeasures

Disaster Prevention System
Earthquake Countermeasures
The 2011 disaster caused unprecedented destruction to the eastern coastal region of Japan. Our plant was no exception. We continue to promote various quake-proof steps along with the recovery plans.
Item
Before
the Great East Japan Earthquake
After
the Great East Japan Earthquake
Expected scale of earthquake

Seismic intensity of upper 5(equivalent to the 1978 Miyagi Earthquake)

Seismic intensity of upper 6(equivalent to the 2011 Great East Japan Earthquake)

Premise Water / Electricity
Supply continued

One production line possible from supplying materials to finishing products within 24 hours was secured, which accounts for 10% of all lines.
All lines were recovered within 7 days.

Supply halted

Unexpected challenges

After social infrastructures were recovered, 30% of the cleanliness of the cleanroom was restored in 7 days and 100% in 14 days.

Earthquake prediction method

Install real-time disaster prevention system
Automatic shutdown of gas and chemicals
Automatic stoppage of photolithography machines, AGV and testers

Seismic reinforcement

Erect quake resistant walls underneath the steps in the cleanroom and fix equipment to the walls

Add quake resistant walls and equip vertical furnaces with quake absorbing structures

Cleanroom recovery

Maintain the cleanliness of the cleanroom by continuing supply of water and power

Secure the cleanliness by constructing water wells and increasing power generators

Secure materials

Store long delivery parts and crucial components

Regularly review necessary items and their required number

Secure safety

Install monitoring cameras in the cleanroom
Install cleanroom access control system

Install safety confirmation text message service
Update earthquake response manual
We will deliver our products in no uncertain manner even in the quake of seismic intensity of upper 6.
Seismic Reinforcement with Quake Shock Absorbers
Even if a quake of seismic intensity of upper 6 hits this area, our products and equipment will be protected by seismic isolation devices.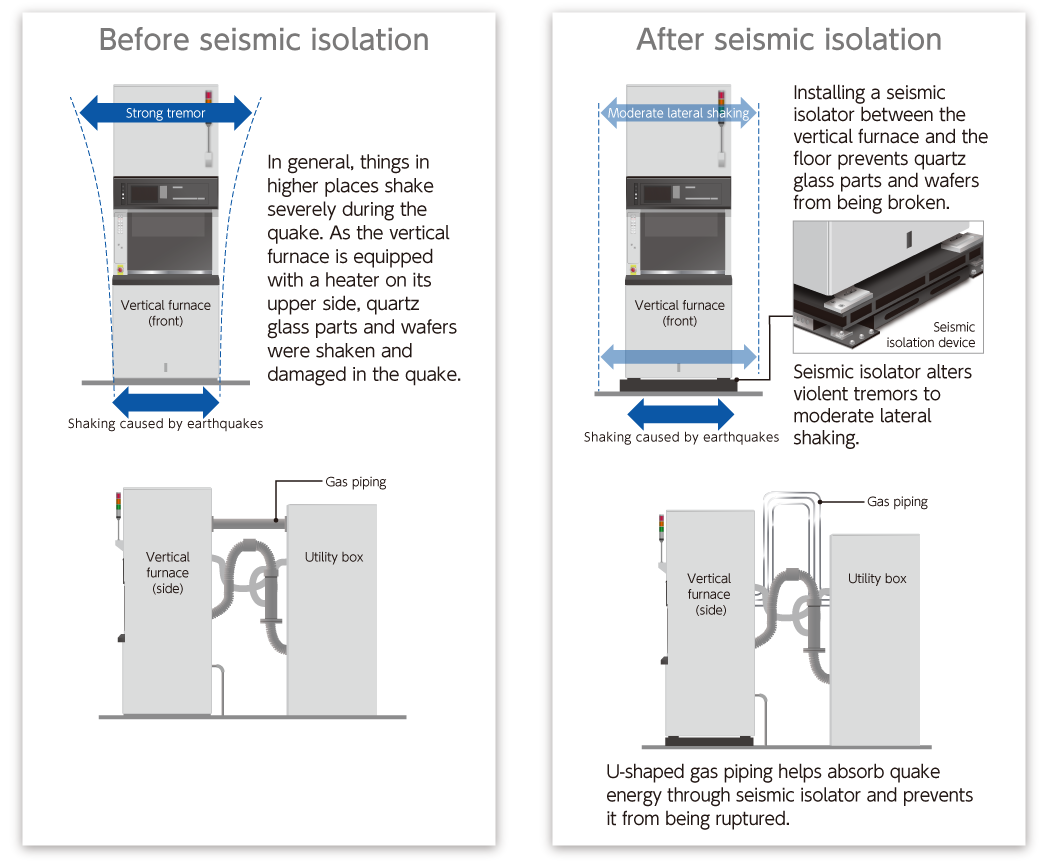 A vertical furnace is tall and has a small bottom area. As it is equipped with a heavy heater on its upper side, its center of gravity is located at a higher place, making it vulnerable to quakes. In spite of several anti-quake measures taken, quartz glass parts and wafers were destroyed in the 2011 disaster. Learning from the lesson, quake absorbing structures were installed to prevent them from being damaged.
Put Original Infrastructure in Place
Building wells and increasing power generators help secure cleanliness even in the disasters.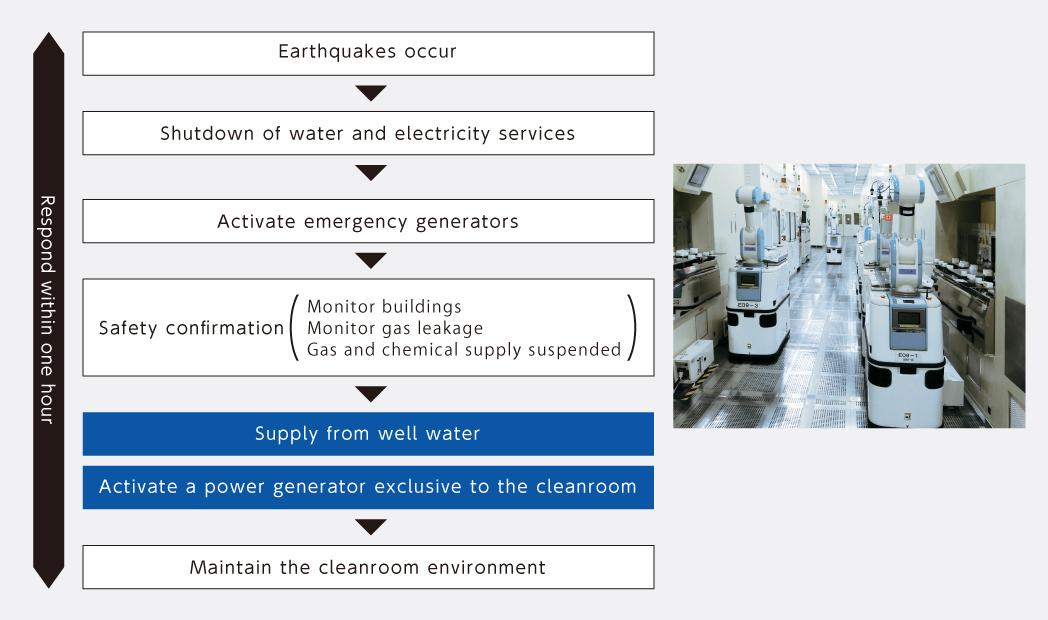 When access to water and electricity is suspended after a quake, activate emergency generators and confirm the safety of our employees. Next, activate a power generator exclusively for cleanroom and supply it with well water in order to maintain cleanroom standards.

In order to keep the cleanroom from being contaminated, water and electric power is needed. We built two water wells and additionally three power generators to ensure cleanliness standards remain intact even if those services are disrupted.
Real-time Disaster Prevention System to Protect Human Lives and Products
For the purpose of averting severe damage being incurred by a disaster, we applied a real-time disaster prevention system in 2005 and have enhanced its performance since then. When an earthquake occurs, it predicts the seismic intensity on the premises and warns with an alert sound or through an audio announcement to evacuate if its acceleration is more than 20 gal. If the system estimates a quake with more than 120gal of acceleration, it stops infrastructure and production equipment in a safe way.
Real-time earthquake disaster prevention system
Stop infrastructure and production equipment after accurately predicting seismic intensity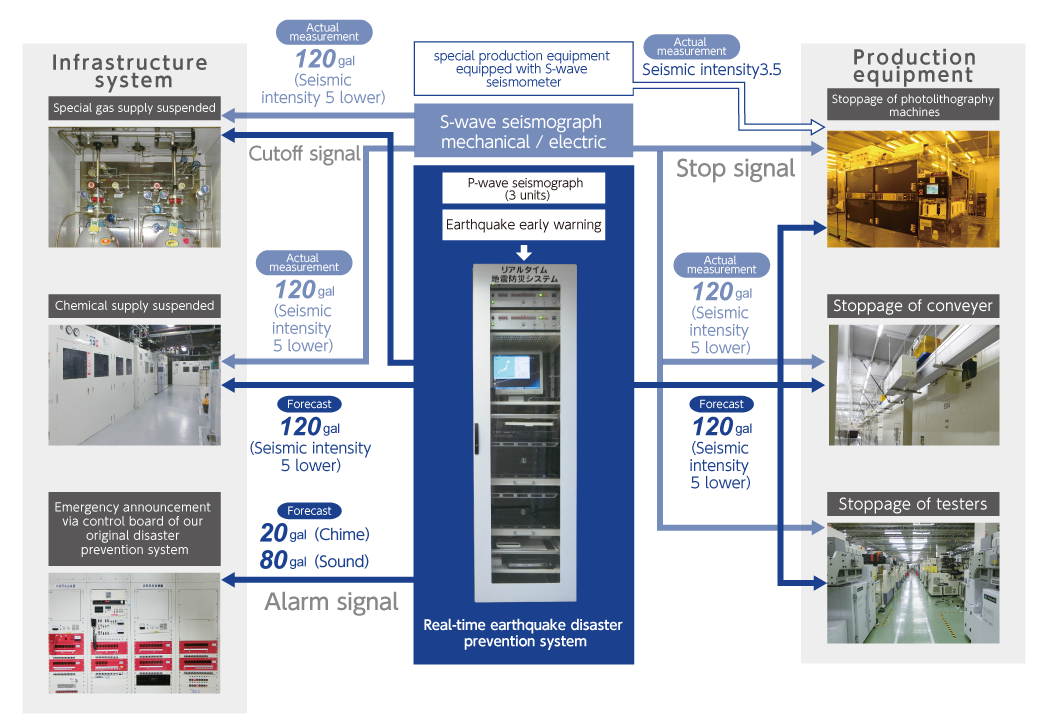 * P wave and S wave: P wave is named Primary (1st) and S wave is named Secondary (2nd). When an earthquake occurs, "fast transmission speed" and "small energy" P waves arrive, causing small pitching. After that, a "slow" S-wave arrives, causing a roll with "great energy".