No Defects Allowed
In order to supply our customers with products that they feel assured to use, we don't compromise on quality in manufacturing products.
We are also dedicated to improvement activities by complying with rules and mechanisms and by thinking about what individuals can do to improve quality. Accumulated experience of doing such activities allows our plant to constantly improve its quality level.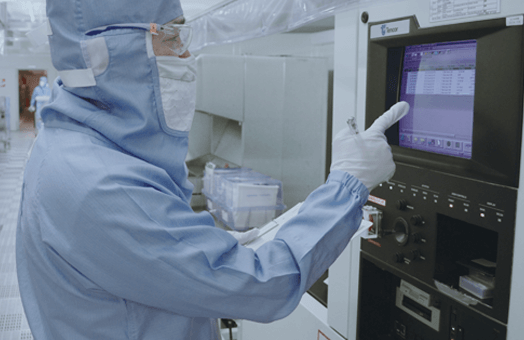 Improvement activities
Improvement Activities to Cultivate Awareness for Better Quality
Our operators are trying to raise awareness for better quality, be more mindful of recognizing abnormalities, and hence prevent troubles from happening. When mistakes occur at the production site, it is essential to identify their root causes and take measures. Improvement activities on the front line of the manufacturing industry underlie the high quality of our products.
Raise Awareness
Customer first, think and act from the customer's perspective
Declaring one's own objectives and realizing them with high morale makes our customers feel safe and satisfied with our service. From the perspective of quality, cost and delivery date, we always think about what we can do for our customers and set annual goals based on that.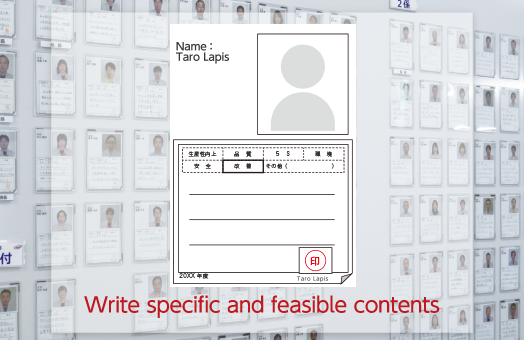 Prevent Errors from Happening
Look at the workplace objectively
Find cases different from usual
We encourage workers to voluntarily declare what they find at work through their own five senses: unusual sound coming from equipment, different coloration of wafer, etc.
Workers will be appreciated if they discover troubles at earlier stages and prevent them from happening, contributing to further raising awareness of unusual cases and sharpen their sense of noticing abnormalities.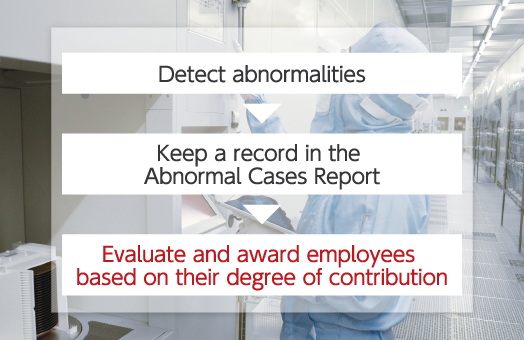 Recurrence Prevention
Process Patrol and Check, a tool to stop repeating the same mistakes
If careless mistakes and operation errors take place, they are registered in the report and countermeasures will be taken. The process in which they took place is added to the Process Patrol and Check, then whether the countermeasures are effective or not will be regularly monitored with the aim of preventing them from occurring again.