Education Programs to Nurture Talented People Who Will Lead the Next Generation
Thirty-two years have passed since our factory was built. Overcoming difficult times by tenaciously grappling with challenges, which is typical to the people of the Tohoku region, we have honed our skills to compete in the world. Now, many seasoned employees with a career of more than twenty years are working for us.
With a well-developed educational system and contents in which know-how and knowledge of manufacturing semiconductor products is handed down to the next generation, we have nurtured talented workers who will support our plant in the future.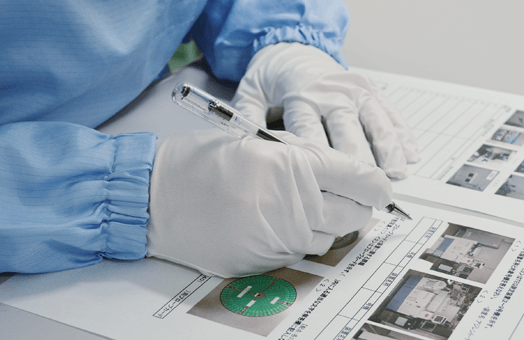 Meticulous Curriculum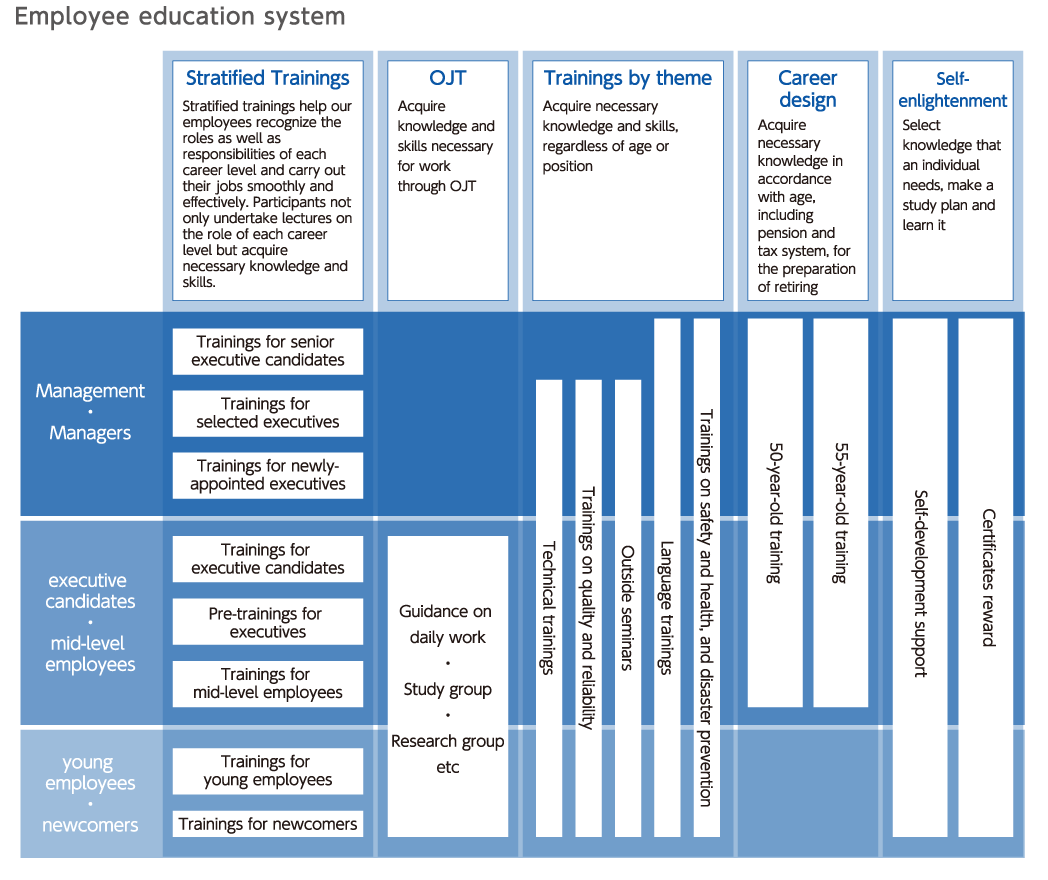 We have many programs that employees can select to cultivate themselves, including stratified education, OJT, study groups and a self-development support system.
A Sense of Fulfillment in Completing a Task Nurtures a Mindset to Improve Oneself
The environment surrounding us is rapidly changing. Doing a job in a passive manner might leave you behind others. We find an increasing number of new and young employees voluntarily talk about their experience at work, such as "In my first year of employment, I was assigned to a job that nobody in this company has ever done." or "I was expected to lead a joint-improvement activity with people outside of the company and make co-workers get involved in a task, even though I had just joined the company." More importantly, they realize a sense of fulfillment in completing the task. Since this sense of accomplishment leads to their satisfaction in their job, capabilities to discover challenges and come up with improvement plans will grow through their daily work.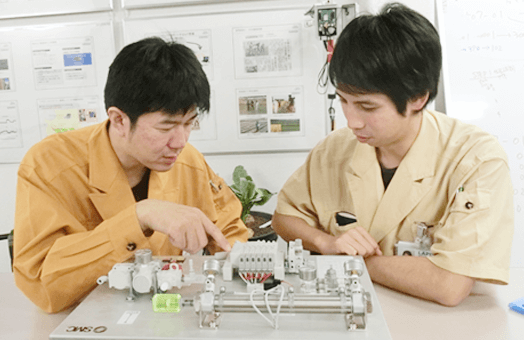 Well-Developed Education to Train Them as Full-Fledged Engineers
A variety of education programs including newcomers' trainings are available. After being assigned to a section, individuals will gain knowledge and technology skills necessary for engineers through the Engineer Basic Education and Production Engineering Workshop, while undertaking practical trainings mainly through OJT. Depending on the section, they are required to deal with foreign companies and go abroad on business. To this end, we assist them in improving their English speaking and writing skills. One example is that native English teachers come to the company to teach English conversation. Rewards will be given to those who meet the standard for the TOEIC score. We hope our employees will actively take advantage of these programs to grow and play an active role in the competitive global society.