2012 News Release
November 7, 2012
Bluetooth® v4.0 Low Energy Compatible Wireless Communication LSI Featuring the Industry's Lowest Current Consumption

LAPIS Semiconductor has recently announced the development of a wireless communication LSI compatible with Bluetooth® v4.0 Low Energy*1, making it ideal for health and fitness applications. Features include the lowest current consumption in the industry ( 9.8mA at transmission, 8.9mA at reception*), prolonging operation in battery-equipped devices while enabling compact, low-capacity coin cell batteries to be used. A protocol stack required for Bluetooth® wireless communication is included as well.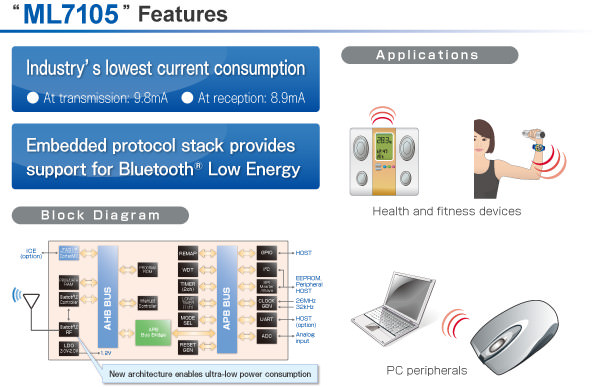 Terminology
*1:Bluetooth® v4.0 Low Energy

The latest version that significantly reduces power consumption compared with the previous Bluetooth standard, enabling long-term operation for several years with just a single button cell battery.
Bluetooth® is a registered trademark of Bluetooth SIG, Inc. in the U.S.
The latest Bluetooth® wireless standard, v4.0 Low Energy, is expected to drive expansion into new markets and devices, including health and fitness products for daily health management, such as pedometers, activity monitors, blood pressure / heart rate monitors, and equipment that integrates multiple sensors ( i.e. cycling computers ). A number of existing Bluetooth devices are also transitioning to Bluetooth® Low Energy due to the improved functionality and extremely lower power consumption provided by v4.0.
In response, LAPIS Semiconductor has succeeded in developing a wireless communication LSI capable of operating using less than 10mA through a redesigned RF circuit structure, optimized circuit current, and low-power RF circuit technology, such as ZigBee®*2. This increases operating time in current systems and allows even smaller batteries, including coin cell types such as the CR2032 ( 230mAh ), which until now were limited for use in low-power devices ( i.e. calculators, electronic toys, and remote controllers ) because they could not provide the several tens of mA required by conventional wireless communication LSIs, to be used by minimizing the effects of voltage drops due to internal battery resistances.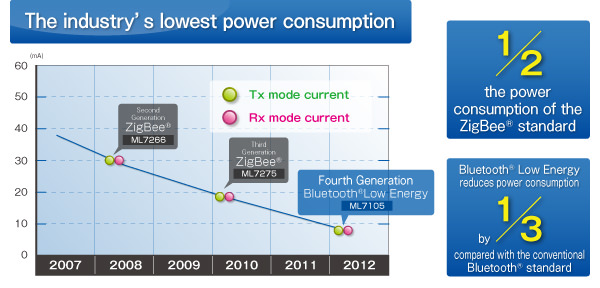 Terminology
*2:ZigBee®

A near-field wireless communication protocol standardized by the ZigBee® Alliance.
The physical and MAC layers use the IEEE802.15.4 communications protocol.
Key Features
Bluetooth® v4.0 Low Energy single mode LSI

Optimized for Bluetooth® Smart devices, both Master and Slave functions are included, ensuring compatibility with PC accessories and smartphones as well as enabling use as a relay between various sensor applications, such as wrist-mounted health and fitness devices and bicycle computers, PCs and smartphones.

Low power consumption design

Proprietary RF circuitry results in the industry's lowest current consumption ( 9.8mA at transmission, 8.9mA at reception, 0.7µA at sleep ). In addition to the RF circuit, a partial power-OFF circuit is built in for total system power optimization along with a clock control circuit for autonomous clock control.

Built-in protocol stack

A Bluetooth® v4.0 Low Energy host stack is incorporated, enabling support for Bluetooth® Smart devices by simply implementing profiles to the existing application processor in the customer's set based on the application. Sample programs and a reference board are available ( fee required ).

Internal microcontroller + memory

Arm Ltd.'s Cortex-M0 MCU is integrated, along with program-specific 12kByte SRAM for customer applications. User applications can be downloaded from external memory via I2C bus.

Equipped with multiple standard serial interfaces

Multiple general-purpose serial interfaces for communicating with the host microcontroller and other components are built in, including SPI Slave, UART, and I2C.

GPIO and I2C bus integrated for controlling sensor devices and peripherals

An I2C bus is included for interfacing with various sensor devices and peripherals, along with 4ch GPIO ideal for power control and / or interrupt signals.

Sensor node evaluation kit

The evaluation kit for the ML7105 integrates a LAPIS Semiconductor microcontroller and a sensor node consisting of a ROHM sensor group on the same board. Easily configure a sensor network by combining the board with the ML7105 wireless module. Application software, including sample code, along with driver software for various sensor devices, are also included in the kit.
Applications
Health and fitness devices
Medical equipment
PC peripherals
Industrial equipment
Availability
Sample Price

Yen 1,000 ( tax not included )
Evaluation Board ( alone )
Technical Details
Bluetooth® SIG Core Spec v4.0 compliant
Built-in low power consumption RF block
Integrated general-purpose Cortex-M0 processor from Arm Inc.
64kByte ROM for program storage ( CODE_ROM )
16kByte RAM for data storage ( DATA_RAM )
12kByte for user program storage ( CODE_RAM )
Internal baseband controller supports Bluetooth® LE single mode
UART included for Bluetooth® Host Controller Interface
SPI_SLAVE for Custom Host Controller Interface
EEPROM or I2C ( Master & Slave ) for Custom Host Controller Interface
Supports Low Power Clock ( 32.768kHz ) for intermittent transmission / reception
Supply voltage

3.3V Typ. ( 1.6V to 3.6V )
Power consumption

Sleep : 0.7µA
Transmission : 9.8mA ( 0dBm )
Reception : 8.9mA
Package

32pin QFN ( 5.0mm × 5.0mm × 0.8mm )
Contact
For customers' inquiry regarding this release: please go to

the inquiry page
* Information in the press releases is current on the date of the press announcement, but is subject to change without prior notice.
*Please note that the names of companies and products described in this document are the trademarks or registered trademarks
of their respective companies and organizations.