2012 News Release
Jun 20, 2012
ZigBee®RF4CE-Compliant Wireless Communication Module

LAPIS Semiconductor, a ROHM Group company, recently announced the development of the MK72750A-01, a 2.4GHz wireless communication module that integrates a ZigBee®RF4CE*1-compliant LSI with a specially-tuned antenna, making it easy to develop low-power RF remote control applications (16mA transmission/21mA reception) without requiring complex circuit designs or wireless characteristics adjustments for high-frequency components that often entail a significant degree of expertise and design experience.
A number of devices are on the market that utilize the ZigBee®RF4CE standard for infrared remote control. This short-distance wireless technology is non-directional and allows for operation even if there are obstacles between the remote control and device. It also supports multi-device control, bi-directional communication, and security functionality.
To meet market needs for low power consumption and wireless compatibility LAPIS Semiconductor developed the ML7275 featuring a new IEEE802.15.4*2 circuit for the industry's lowest power consumption. However, implementation requires expertise in wireless technology and high-frequency circuits.
For customers with less experience with wireless designs or for those that require shorter development time, LAPIS Semiconductor offers the ZigBee®RF4CE-compliant 2.4GHz wireless communication module MK72750A-01 that integrates the ML7275 wireless communication LSI along with a pre-tuned antenna that enables immediate transmission of radio waves. The unit is also Radio Act certified, making it possible to immediately initiate development and evaluation in Japan.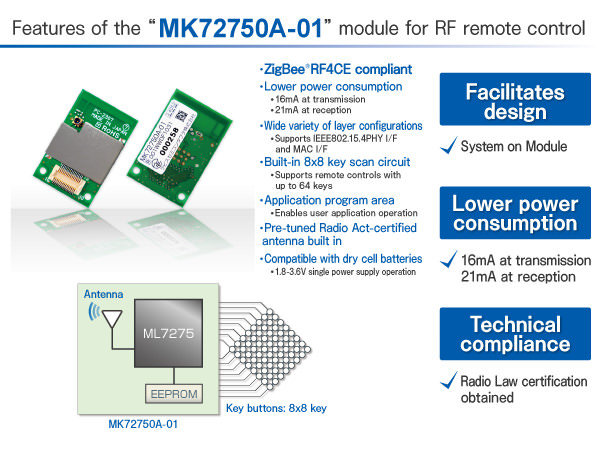 Terminology
* 1 : ZigBee®RF4CE (Radio Frequency for Consumer Electronics)
A standard specification for wireless control (network layers). Mainly used for consumer
electrical appliances.
* 2 : IEEE802.15.4
A wireless network standard that features low power consumption designed for short-distance
communications. It is used for the PHY and MAC layers of ZigBee® systems.
Key Advantages
RF remote control standard ZigBee®RF4CE Ver.1.0 compliance

Supports the universal standard for RF remote controls, ensuring worldwide compatibility
(when using outside Japan, compliance with the local wireless regulations is required).

Low power consumption

This IEEE802.15.4 module features among the lowest power consumption in the industry
(Transmission: 16mA, Reception: 21mA, Sleep: 1.0µA).

Multiple layer configurations

Equipped with interfaces for IEEE802.15.4 MAC and IEEE802.15.4 PHY layers as well as ZigBee®RF4CE, making it compatible not only for RF remote controls but also for general short-distance wireless networks.

8×8 key scan accelerator

A built-in accelerator supports key scan – essential for remote controls (64 keys max.).

User program development

Up to 2KBytes of user program area is provided. User applications can be run by downloading them from the built-in E2PROM to the ML7275. In addition, an on-chip debugger allows for easy development of application programs when used in conjunction with µEASE*3.

Radio Act certified

The ML72750A-01 with antenna has obtained Radio Act certification, making it possible to immediately emit radio waves for evaluation and development
(when using outside Japan, compliance with the local wireless regulations is required).

Compatible with dry cell batteries

A built-in regulator enables operation 1.8V to 3.6V, making the module compatible with standard dry cell batteries.
Terminology
* 3 : µEASE
A compact emulator that supports on-board program debugging when connected
to an LSI equipped on-chip debugging functions.
*The names of companies and products described in this article are the trademarks or registered trademarks of the respective companies and organizations
Applications
RF remote control
Illumination control
Sensor networks
Sales Plan
Part No.

MK72750A-01

Sample Shipment

May 2012

Sample Price

2000 yen (tax not included)

Evaluation Board (Single Unit)

June 2012

Product Launch

August 2012
Features
ZigBee®RF4CE compliant

IEEE802.15.4 - 2003 compliant

IEEE802.15.4 2.4 GHz PHY mounted
IEEE802.15.4 MAC included (with AES)
(IEEE802.15.4-2006 features partially supported, AES operable separately)

Built-in regulator

Available

Supports SCI and UART (selectable)

GPIO (16 pins) included for key scan

Jamming detection function

Multiple timers (MAC, NWK, and intermittent timers)

The intermittent timer is driven by an external clock (shared with key scan pins)

External clock input (shared with key scan pins)

Random number generator circuit incorporated

Power supply voltage

1.8V min / 2.7V typ / 3.6V max

Current consumption (Typ.)

Sleep ( Clock stopped ) : 1.0µA
Idle ( High / Low ) : 6.0mA / 2.0mA
At Transmission : 16mA
At Reception : 21mA ( low power consumption mode )

Size : 20 mm × 31 mm × 2.7 mm
Contact
For customers' inquiry regarding this release: please go to

the inquiry page
* Information in the press releases is current on the date of the press announcement, but is subject to change without prior notice.
*Please note that the names of companies and products described in this document are the trademarks or registered trademarks
of their respective companies and organizations.