2012 News Release
February 22, 2012
LAPIS Semiconductor starts mass-production of ultra-compact microcontrollers that take integrated control of various sensors installed on smart phones with low power consumption
LAPIS Semiconductor provides a total solution with its microcontrollers combined with a rich variety of sensors manufactured by the ROHM Group.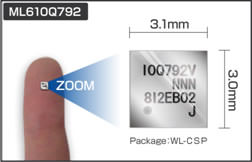 For the smart phone market, LAPIS Semiconductor, a ROHM Group company, has developed "ML610Q792," one of the world's smallest class of low power microcontrollers. This microcontroller can take integrated control of various sensors with low power consumption. Recently, the ratio of smart phones to mobile phones has been increasing steadily. On the other hand, load on the battery of a smart phone has also been increasing because of installation of more sensors for provision of new applications and services. Paying attention to this fact, LAPIS Semiconductor has separated sensors required to be driven all the time from the host processor so that the sensors can be controlled by a low power microcontroller. This has led to reduction of load on the host processor and has also enabled the life of the battery to be longer. With its low power consumption used effectively, "ML610Q792" can be applied to applications, such as sensor network modules, in combination with radio communication systems.
"ML610Q792" has its original high-performance 8bitRISC CPU Core (U8) and a 16-bit coprocessor for multiplication and division operations. It also has two interfaces: one for connecting sensors and the other for connecting to the main chipset. The package size of "ML610Q792" is 3.1 mm × 3.0 mm. LAPIS Semiconductor has achieved this compactness by adopting its packaging technology WL-CSP*1. In addition, "ML610Q792" provides a development board containing various sensors and various drivers needed for users' embedment. It also provides Software Development Kit (SDK)*2 containing sample source codes for logging, pedometer, and calorie calculation.
One of the ROHM Group's strategies is "Sensor-related business." ROHM has developed a wide range of sensors so far, such as proximity sensors, ambient light sensors, hall IC, temperature sensors, touch panel sensors, CIGS image sensors, UV sensors, and pulse wave sensors. In addition, Kionix, Inc., a major vendor of accelerometer and gyroscope, has joined the ROHM Group. Due to this joining, ROHM can now provide a rich lineup of top-class sensors among device manufacturers. By combining this rich lineup of sensors with its low power microcontrollers, LAPIS Semiconductor will provide higher-value added and more customer-convenient solutions.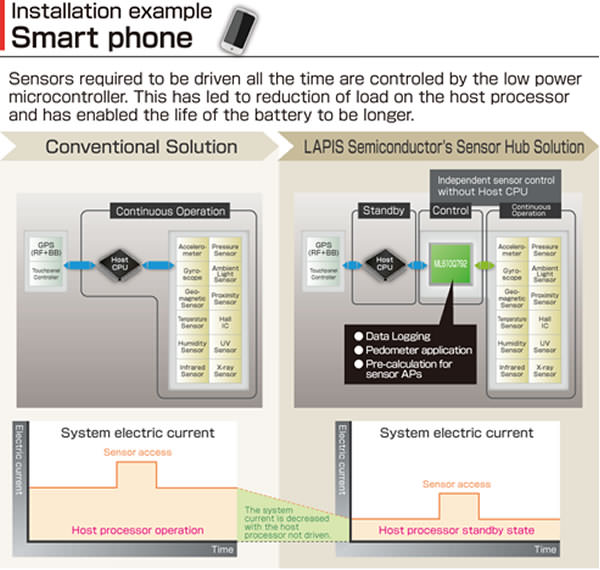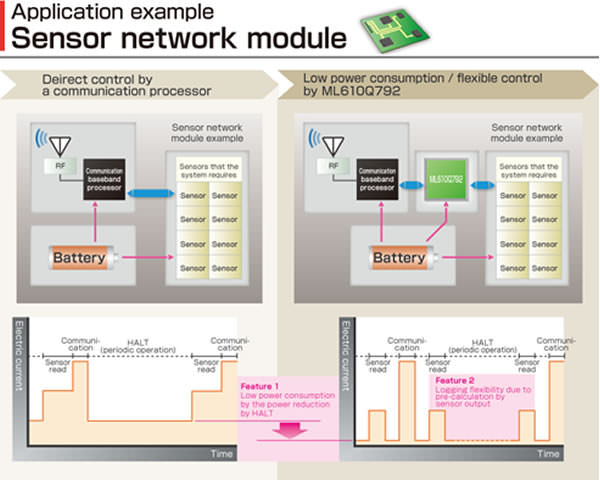 Features
[Features of the sensor-controlling low power microcontroller "ML610Q792"]
Integrate control of various sensors installed on smart phones

Provision of a sample driver/firmware of a sensor
Lower power consumption for the entire system due to separation of sensors from the host processor

Equipped with LAPIS Semiconductor's original high-performance 8bitRISC Core
Lower power consumption

Low power consumption of 0.6 µA or less in the Halt mode

Built-in 64 KB Flash ROM
Package: 48-pin WL-CSP (3.1 mm × 3.0 mm)
Scheduled to be mass-produced and shipped in April 2012
Sample price (reference price): 300 yen (tax not included)
[Features of Software Development Kit (SDK)]
Recommended sensors have been installed beforehand on the development board.
Compatible sensors are planned to be increased in the future.
The driver/firmware of each sensor is provided. In addition to this, sample programs of logging, pedometer, activity meter, and state detection (discrimination among walking, running, and riding) are provided.
A program can be run by the development board alone.
In addition, when the program development support system is connected to via µEASE*3, on-chip debug can be carried out.
Android™ drivers are planned to be supported (under preparation).
Shipment starts in April 2012.
Reference price: 70,000 yen (tax not included)
Field of application
Smart phones
Tablet terminals
Sensor networks
Toys (motion sensor control)
Glossary
*1: WL-CSP (Wafer Level Chip Size Package)

This is a technique to package all in a bundle in the form of a wafer. With this technique, an LSI package can be miniaturized to absolutely the same external dimension as that of a chip.

*2: Software Development Kit (SDK)

General term for aggregation of a development board, sample programs, drivers, and various types of documents used for users to develop programs

*3: µEASE (commonly known as MicroEASE)

Name of a software-debugging on-chip debug emulator that has a function of running or stopping a program by using the debugging function inside the microcontroller
*The names of companies and products described in this article are the trademarks or registered trademarks of the respective companies and organizations.
Contact
For customers' inquiry regarding this release: please go to

the inquiry page
* Information in the press releases is current on the date of the press announcement, but is subject to change without prior notice.
*Please note that the names of companies and products described in this document are the trademarks or registered trademarks
of their respective companies and organizations.