> Company Profile > 2017 News Release > FeRAM "MR45V100A / MR44V100A"
1Mb FeRAM Enables Fast Data Backup in Unstable Power Environments
1Mb FeRAM Enables Fast Data Backup
in Unstable Power Environments
~ High-speed 40MHz operation and wide voltage range
from 1.8 to 3.6V improve reliability in IoT equipment ~
Summary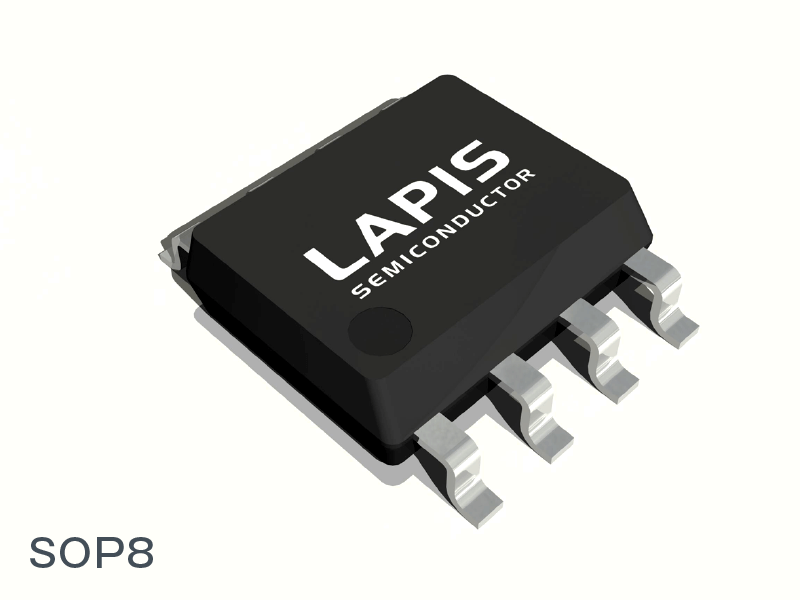 LAPIS Semiconductor has recently announced the development of 1Mbit ferroelectric random access memory (FeRAM*1) designed for applications such as smart meters, measurement equipment, medical equipment, and financial terminals that require fast and frequent acquisition of log data and/or fast data backup in emergency situations.
Recent years have seen a growing demand by electronic devices to improve security in response to emergency blackouts, decreasing power consumption, device miniaturization/mobility, and increasing data scale. To meet these needs, LAPIS Semiconductor has developed FeRAM that provides greater capacity, achieves both a wider supply voltage range and high speed operation, and reduces power consumption during standby/sleep, making them ideal for battery-driven mobile equipment and terminals.
Compared to other non-volatile memories such as EEPROM and flash, FeRAM features faster data rewrite, higher rewrite durability, and lower power consumption. In 2011 LAPIS Semiconductor began combining ROHM's ferroelectric random access memory manufacturing expertise with its own memory development technology to develop FeRAM products in a variety of capacities and interfaces. This memory has since been adopted in multifunction printers, vehicle accessories, FA (Factory Automation) equipment, and other applications requiring fast and frequent data rewriting.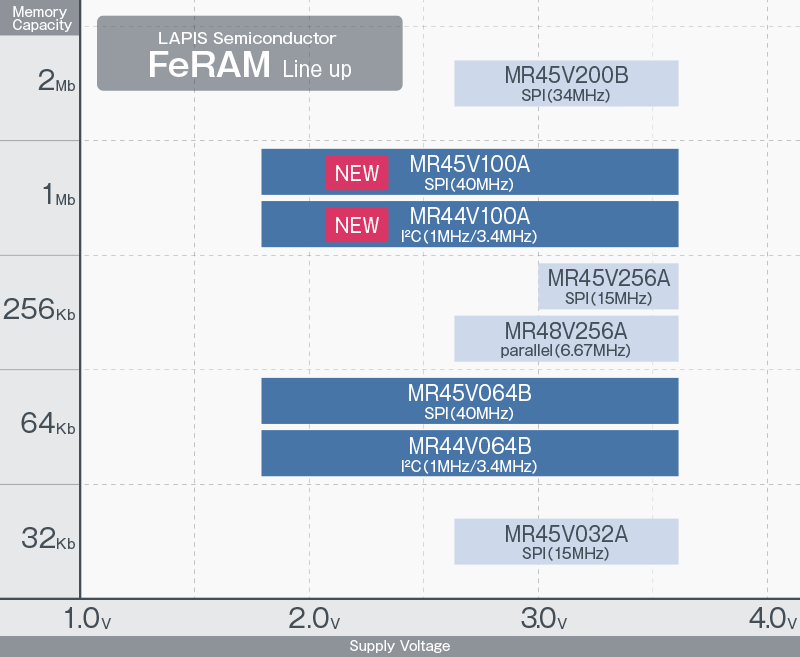 The MR45V100A provides high-speed 40MHz operation over a wide supply voltage range from 1.8 to 3.6V via SPI *2 bus. And the large 1Mbit capacity ensures stable, high-speed performance even during sudden voltage drops in unstable power environments, contributing to improved reliability when used for high-speed backup in installed equipment. Alternatively, we offer the MR44V100A featuring I2C *3 bus I/F suitable for applications that do not require high-speed operation.
Additionally, with mobile applications in mind, the standby mode has been improved to curb the rise in power consumption that occurs when increasing memory capacity, and for the first time a sleep mode has been implemented to reduce power consumption even further. This results in an industry-leading low 10µA (ave.) standby current and sleep current of just 0.1µA (ave.), making them ideal for portable devices and handy terminals (i.e. approval terminals, data loggers) that place an importance on battery drive time.
【Terminology】
*1 : FeRAM (Ferroelectric Random Access Memory)
A type of non-volatile memories that can retain stored data even after the power is turned off. A ferroelectric capacitor is used as the storage element. Features include fast data rewrite, high rewrite durability, and low power consumption.
*2 : SPI (Serial Peripheral Interface)
A serial communication standard that uses three lines: clock, input data, and output data. The simple data format and principle enable a fast communication.
*3 : I2C (Inter-Integrated Circuits)
A serial communication standard that uses two lines: clock line and input/output data line. The number of pins can be reduced because a line is shared by input and output, but the speed is lower than SPI.
Key Features
1. 40MHz operation enabled over a wide range from 1.8 to 3.6V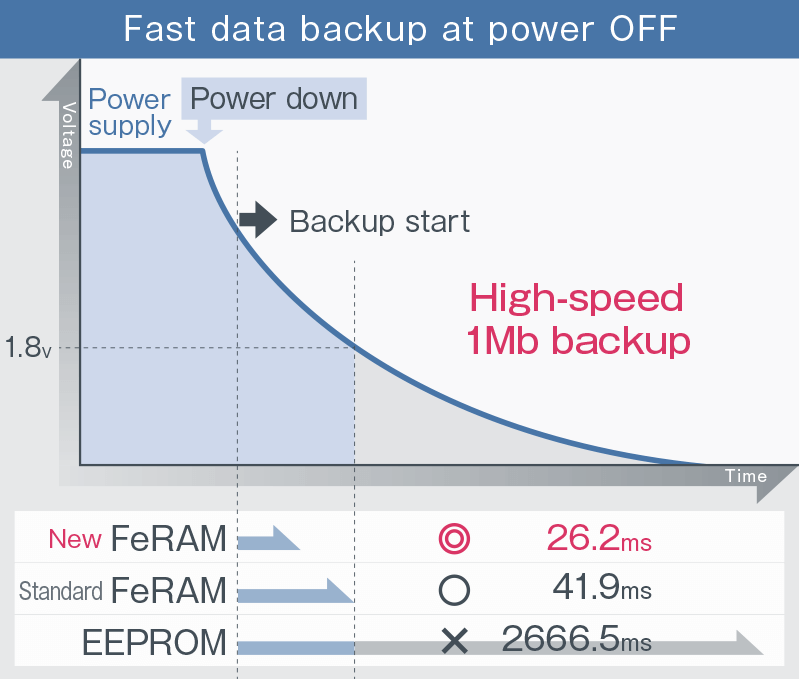 FeRAM enables higher speed data rewrite with lower power consumption compared to other non-volatile memories such as EEPROM and flash, minimizing the risk of data loss even during instantaneous voltage drops or power failure during writing.
And like our conventional 64Kbit MR45V064B, the MR45V100A with SPI I/F guarantees 40MHz operation over the power voltage range from 1.8 to 3.6V, maintaining equivalent performance while increasing capacity to 1Mbit. This makes it possible to handle large-scale data in applications requiring a high level of security.
2. Large capacity with class-leading low standby/sleep current
As the demand for lower power consumption in electronic devices increases, methods are required to reduce the average power consumption of the entire device, for example by shifting unnecessary blocks into low current mode during system operation.
Based on this, the MR45V100A/MR44V100A utilize the following features to suppress power consumption rise resulting from increased data capacity.
(1) Improved standby mode limits standby current to just 10µA - the lowest among 1Mbit FeRAMs
In standby mode, power to unnecessary circuits is cut off and initialization is performed at high speed only for necessary blocks during recovery to suppress current consumption. This results in an average standby current of only 10µA, the lowest in its class.
(2) New sleep mode delivers the industry's lowest sleep current of 0.1 µA along with fast recovery time
A sleep mode that significantly reduces power consumption over conventional standby mode has been implemented in our products for the first time, making it possible to achieve an industry-low current consumption of 0.1µA (ave.). In addition, recovery time from sleep mode is an unprecedented 100µs, enabling support for applications requiring a short sleep period or fast operation restart.
Specifications
Parameter
MR45V100A
MR44V100A
Interface
SPI
I2C
Memory Configuration
128K words × 8bits
Power Supply Voltage
1.8V to 3.6V
Operating Temperature
-40°C to 85°C
Sleep Current
0.1µA (typ.),2µA (max)
Standby Current
10µA (typ.),50µA (max)
Operating Current
3mA (typ. @40MHz)
4.5mA (max @40MHz)
350µA (typ. @1MHz)
450µA (max @1MHz)
Read/Write Durability
1 trillion times
Data Guarantee Period
10years
Package
8pin/plastic SOP/DIP
8pin/plastic SOP
Operating Frequency
40MHz (max)
3.4MHz (Hs-mode)
1MHz (Fast-mode Plus)
Sales Plan and Applications
Part No : MR45V100A / MR44V100A
Sample Shipment Period : Ongoing
Sample Price (Ref.) : $7 (Excluding tax)
Expected Mass Production Shipment : From December 2017
Applications : Office automation, industrial equipment, broadcast systems, car accessories, medical devices, portables
Inquiry
For customers' inquiry regarding this release: please go to

the inquiry page
* Information in the press releases is current on the date of the press announcement, but is subject to change without prior notice.
*Please note that the names of companies and products described in this document are the trademarks or registered trademarks
of their respective companies and organizations.
Back number
of news release