> Company Profile > News release 2016 > NOR Flash Memory 128Mb "MR29V12852B "
NOR Flash Memory 128Mb "MR29V12852B "
New High Reliability NOR Flash Memory
Ideal for Automotive and Industrial Applications
∼ 128Mb memory features the industry's first error correcting code circuit for stable system operation and lower costs ∼

Summary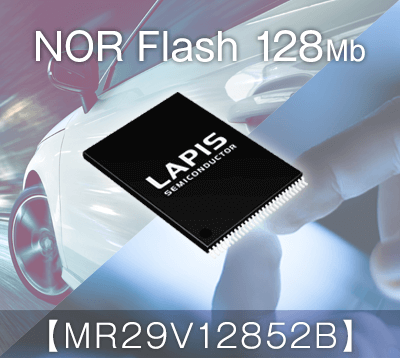 ROHM Group company LAPIS Semiconductor has recently announced the availability of 128Mb NOR Flash memory optimized for data storage in automotive and industrial systems that demand superior quality.
Flash memory is categorized into NAND and NOR types depending on how the memory cells (which store data) are connected. NAND, which is characterized by low cost per bit, is primarily adopted as a digital data storage medium for mobile phones, digital cameras, and digital audio devices, while NOR provides high reliability and is often used to store firmware in automotive systems and industrial equipment where high quality is required.
Unfortunately, however, non-volatile memory such as Flash are susceptible to accidental data errors, prompting high reliability applications to adopt measures that prevent programs from malfunctioning or stopping due to data error to ensure stable system operation. Data errors in Flash memory are primarily caused by memory read data error (bit error) or electrical noise (radiation noise) generated during data switching, which can lead to signal delay and/or waveform distortion and, ultimately, data communication error between the Flash memory and controller. This greatly affects system reliability. To combat this, many systems typically utilize a bit error correction function to minimize bit errors and implement board design and component layout (and evaluation) that incorporate countermeasures to prevent noise from being introduced into peripheral circuits.
The MR29V12852B is the industry's first NOR Flash memory to incorporate error correcting code circuit and output drivability adjustment circuits that prevent radiation noise on the board. In addition, compatibility with competitor products makes it easy to implement data error countermeasures by simply replacing existing memory without requiring system modifications, reducing costs while ensuring stable operation.
Key Features
1. Replacing conventional memory with the MR29V12852B adds bit error correction functionality
Until now, integrating bit error correction functionality involved adding an error correcting code circuit and parity memory to conventional memory. However, the MR29V12852B incorporates an error correcting code circuit and parity Flash memory that provide bit error correction functionality. This eliminates the need for additional components, while compatibility with existing NOR Flash memory makes replacement easy without requiring system modification.
(Replacing conventional memory with the MR29V12852B reduces costs by approximately 5%, depending on system size and configuration of the error correcting code circuit.)
2. Output drivability adjustment function reduces radiation noise
The MR29V12852B includes an output drivability adjustment circuit that changes the current drive capability during data output in order to reduce radiation noise on the board during NOR Flash operation and improve waveform characteristics of the read data output through impedance matching. This makes it possible to optimize current driving capability based on system configuration, requiring fewer components for radiation noise countermeasure and reducing the number of damping resistors along with installation costs. (Please note that the specifications for the output drivability adjustment circuit are set at factory, but can be adjusted using an existing Flash controller.)
Applications
Automotive systems, industrial equipment, and general consumer electronics
Sales Plan
Part No : MR29V12852B
Sample Launch Date : March 2016
Sample Price (Ref.) : $7.5 (tax not included)
Expected Mass Production Ship Date : From November 2016
Mass Production Quantity : 500,000pcs/month
Specifications
| Parameter | Specifications |
| --- | --- |
| Memory Configuration | 8,388,608 × 16bits, 16,777,216 × 8bits |
| data bus Configuration | Word (16 bits), Byte (8 bits) switching |
| Sector Configuration | 128Kb each |
| Power Supply Voltage | 2.7V to 3.6V |
| Operating Temperature | -40°C to +85°C |
| Memory Access | 70nS (random access), 25nS (page access) |
| Supply Current (Typ) | Read current: 20mA (at 5MHz), standby current: 30µA |
| Protection | WP# control, software control |
| Package | 56TSOP Type I |
Inquiry
For customers' inquiry regarding this release: please go to

the inquiry page
* Information in the press releases is current on the date of the press announcement, but is subject to change without prior notice.
*Please note that the names of companies and products described in this document are the trademarks or registered trademarks
of their respective companies and organizations.
Back number
of news release