> Company Profile > News release 2016 > Lithium-ion Battery Secondary Protection LSI"ML5232"
Lithium-ion Battery Secondary Protection LSI"ML5232"
New Lithium-ion Battery Secondary Protection LSI Supports an Industry-Best 14 Cells
Provides functional safety in battery monitoring systems
and contributes to system miniaturization
Summary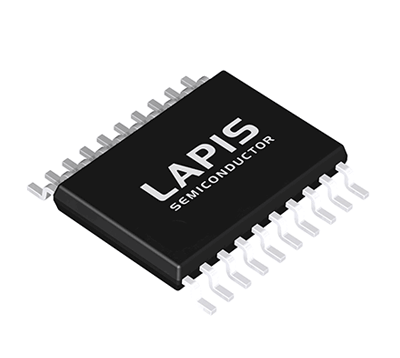 ROHM Group company LAPIS Semiconductor has recently announced the availability of a lithium-ion battery secondary protection LSI that supports up to 14 cells in series – the most in the industry – and features a maximum operating voltage of 80V, delivering functional safety*1 in li-ion battery-equipped systems such as electric bicycles, power storage systems, and UPS.
In recent years, the number of applications using high energy density li-ion batteries has risen dramatically. However, there is a growing need to comply with functional safety standards that protect lives and property while providing a higher degree of reliability. And although li-ion batteries also require measures against over-charge/discharge, the number of cases using secondary LSIs in the event of failure is increasing to meet societal demands for further reliability following expanding applicability.
Until now, LAPIS Semiconductor has been focused on developing battery monitoring LSIs, but has recently begun expanding its lineup to meet the need for secondary protection*2 LSIs that play a key role in preventing accidents when battery monitoring LSIs mounted in li-ion systems stop operating due to failure.
The newly developed ML5232 enables detection of up to 14 cells in series, significantly reducing the number of external components and minimizing board space while simplifying circuit design compared with conventional secondary protection LSIs that support only 4 cells. In addition, two protection signals are output that simultaneously cut the fuse and turn off the charge control MOSFET when overvoltage is detected, increasing system reliability.
【Terminology】
*1: Functional Safety
A type of safety function that prevents countermeasures from malfunctioning when a system or device fails or does not work. Standards for safety functions include JIS C 0508 and IEC61508.
*2: Secondary Protection
Provides backup protection when the primary li-ion protection functions (i.e. based on battery monitoring LSI or MCU) stop working.
Key Features
1. Industry-best 14-cell serial connection reduces system size by approximately 50%
Unlike conventional secondary protection LSIs that support only 4 or 5 cells in series, the ML5232 ensures compatibility with up to 14 li-ion batteries in series by adopting mixed-signal circuitry and high-voltage processes. This reduces the number of external parts and decreases mounting area by approximately 50%, contributing to system miniaturization. In addition, construction of high-voltage systems is enabled, making it possible to achieve a standard (common) platform for a wide range of applications.
2. Two unique protection signals used during overvoltage detection
The ML5232 immediately outputs protection signals when secondary protection LSIs utilized in li-ion battery monitoring systems stop working due to failure. 2 output pins (Nch open drain + CMOS) are included that block charging paths, allowing the charge control MOSFET to be turned OFF while simultaneously cutting the fuse during overvoltage detection, improving system reliability.
Applications
Electric bicycles, power storage systems, uninterruptible power supplies (UPS)
Sales Plan
Part No : ML5232
Sample Shipment Period : Ongoing
Sample Price (Ref.) : 700 yen (tax not included)
Expected Mass Production Shipment : From September 2016
Specifications
Parameter
Specifications
Number of Cells Supported
Up to 14 cells in series
(Less than 14 cells supported by shorting cells)
Overvoltage detection threshold accuracy
Overvoltage release threshold
4.35V ±20mV (max)
3.9V ±30mV (max)
Integrated Detection Delay Timer
Overvoltage detection delay time: 2 sec
Overvoltage release delay time: 0.2 sec
Dual Overvoltage Alarm Output
N-channel open drain pin/CMOS output pin
Externally-controlled overvoltage alarm detection output
Detection Voltage/
Delay Time
Mask option
Current Consumption
2.7 µA(typ.) at normal operation state
Operating
Supply Voltage
+7 to +80V
Operating Temperature Range
-40 to 105°C
Package
20pin TSSOP (6.6mm × 6.4mm)
Inquiry
For customers' inquiry regarding this release: please go to

the inquiry page
* Information in the press releases is current on the date of the press announcement, but is subject to change without prior notice.
*Please note that the names of companies and products described in this document are the trademarks or registered trademarks
of their respective companies and organizations.
Back number
of news release