> Company Profile > News release 2016 > Ferroelectric random access memory'FeRAM MR44V064B/MR45V064B'
Ferroelectric random access memory'FeRAM MR44V064B/MR45V064B'
Ferroelectric Random Access Memory
Equipped with Ultra-High-Speed Serial Bus
Class-leading minimum operating voltage and operating frequency
ideal for the rapidly expanding IoT field
Summary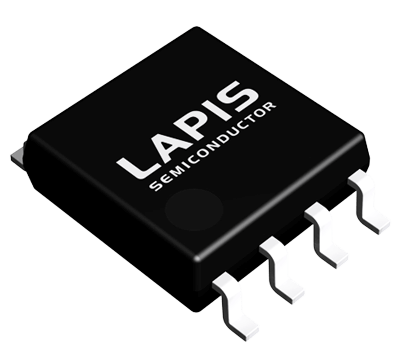 ROHM Group company LAPIS Semiconductor has recently announced the availability of 64-Kbit ferroelectric random access memory*1 (FeRAM) with serial bus optimized for smart meters, healthcare equipment, car navigation systems, and other applications requiring frequent log data acquisition and/or emergency high-speed data backup.
FeRAM, which is expected to be adopted in the future as a next-generation non-volatile memory solution, delivers faster data rewrite, higher rewrite durability, and lower power consumption than today's commonly used non-volatile memories, contributing to greater power savings and increased functionality in a variety of applications.
The MR44V064B and MR45V064B feature a class-leading minimum operating voltage of 1.8V that makes it possible to drive FeRAM and perform rewrite operation for up to 11 years (64-Kbit/s) using just 2 AAA nickel-metal hydride batteries, extending drive time considerably in the portable and IoT fields. In addition, an industry-best operating frequency of 40MHz (SPI bus) enables execution of 64Kbit data rewrite in only 1.64msec, achieving high data reliability through ultra-high-speed data backup to guard against system malfunction. Two models are offered in different serial buses (I2C and SPI) to flexibly respond to varying specifications.
The recent trend towards greater energy conservation demands low system voltage in all applications, not just in automotive and industrial equipment. At the same time there is a need for high-speed reading/writing of data to/from memory to handle the increasing amount of information that follows expanding functionality.
In response, LAPIS Semiconductor developed breakthrough FeRAM products utilizing technological synergy that combines LAPIS Semiconductor's memory design technology with ROHM's ferroelectric memory manufacturing expertise
Terminology
*1 : Ferroelectric Random Access Memory
A type of non-volatile memory that retains stored data even after the power is turned off. It uses a ferroelectric capacitor as a storage element and features high-speed data rewrite, high rewrite durability, and low power consumption.
Key Features
1. 1.8V minimum operating voltage prolongs battery life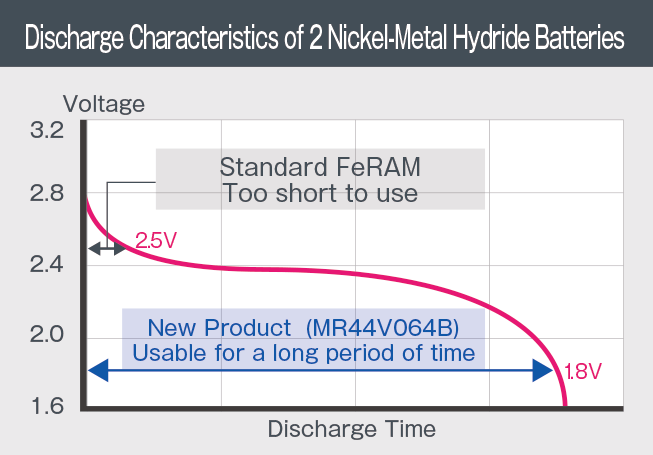 An industry-leading minimum operating voltage of 1.8V is achieved using ROHM's low-power ferroelectric mounting process technology and by securing the gate potential of the memory selection transistor at low voltage.
This makes it possible to drive FeRAM and allow up to 11 years of rewrites using just two AAA nickel-metal hydride batteries (64Kbit/sec), providing support for IoT applications requiring long-term battery operation.
2. Class-leading operating speed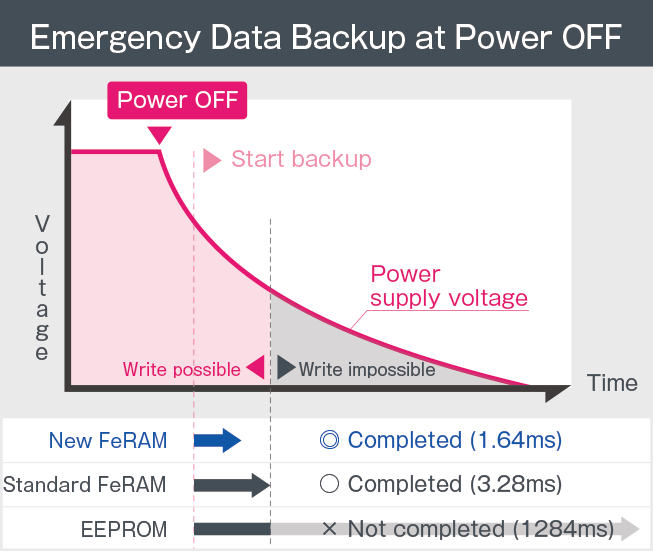 Ultra-high-speed access is enabled by reducing the selector load when selecting the ferroelectric capacitor for storing data. Users can choose between I2C I/F that supports HS mode and a class-leading operating frequency of 3.4MHz or SPI with a maximum operating frequency of 40MHz (also best-in-class) that significantly improves high-speed rewrite characteristics (an major advantage of FeRAM).
40MHz operation makes it possible to rewrite 64Kbit of data in only 1.64msec, allowing data backup to be completed before power interruption, even when unexpected voltage drops occur (i.e. due to blackout). This reduces the risk of data loss and eliminates the need to extend power supply during power outages, making it ideal for applications requiring high-speed processing and superior data retention characteristics.
Applications
Industrial equipment, car accessories, medical devices, portables, IoT
Sales Plan
Part No. : MR44V064B / MR45V064B
Sample Price : $5 (tax not included)
Mass Production Shipment : From January 2016
Mass production Shipment Quantity : 500,000pcs/month
Specifications
Parameter
MR44V064B
MR45V064B
Memory Configuration
8k words × 8bits
Power Supply Voltage
1.8V ∼ 3.6V
Operating Temperature
-40°C ∼ 85°C
Standby Current (Max.)
10µA
Operating Current (Max.)
300µA
(F/S-mode Plus 1MHz)
3mA (40MHz)
Write/Read Durability
1 trillion times
Data Guarantee Period
10 years
Package
8-pin/plastic SOP
(P-SOP8-200-1.27-T2K)
Interface
I2C
SPI
Operating Frequency
3.4HMz (Hs-mode)
1MHz (F/S-mode Plus)
400kHz (F/S-mode)
40MHz (max)
Inquiry
For customers' inquiry regarding this release: please go to

the inquiry page
* Information in the press releases is current on the date of the press announcement, but is subject to change without prior notice.
*Please note that the names of companies and products described in this document are the trademarks or registered trademarks
of their respective companies and organizations.
Back number
of news release