> Company Profile > News release 2016 > 16bit Tough MCUs ML620130 family
16bit Tough MCUs ML620130 family
'Tough' MCUs Optimized for Rechargeable NiMH Applications
Class-leading low voltage drive contributes to greater energy efficiency and performance in compact battery-driven industrial equipment
Summary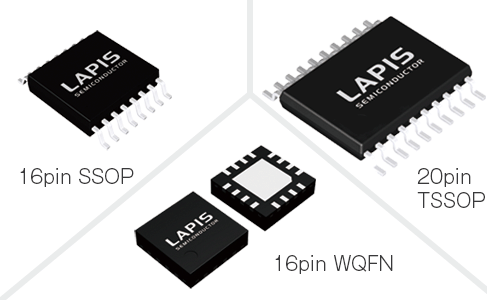 LAPIS Semiconductor has announced the development of the ML620130 family of 16bit low power MCUs, optimized for compact industrial equipment requiring battery drive in noisy environments, featuring superior processing capability with low power consumption.
In addition to clearing the ±30kV noise measurement limit, operating voltage has been successfully reduced to 1.6V. Optimizing the operating voltage to an integral multiple of standard nickel metal hydride batteries (0.8V× 2=1.6V) ensures efficient use without wasting battery charge. This contributes to decreased battery consumption, prolonging battery life in portables and battery-equipped industrial equipment. The ML620130 family consists of 9 models offered in a variety of memory capacities, pin counts, and other characteristics that make it possible for users to select the ideal solution to fit set needs.
In recent years, the continued miniaturization of sensors, batteries, and power supplies has increased the demand for for compact, low-cost modules (embedded substrates) that support a variety of applications and operating conditions. When considering different situations and usage methods there is a need to ensure stable operation under harsh environments (i.e. excessive noise, heat generation) while at the same time requiring improved performance such as greater communication diversification and generalization.
To provide increased miniaturization and lower costs, many applications are opting to eliminate noise and/or thermal countermeasures. However, this makes it difficult to balance the conflicting demands for increased environmental resistance while maintaining safety utilizing fewer external parts. In addition, reducing the size of the battery mounted in the module while also increasing battery life requires that the power consumption (voltage and current) be optimized for each application.
To meet these disparate needs, LAPIS Semiconductor has expanded its lineup of market-proven 16bit low power microcontrollers to include the ML620130 family of 'tough' MCUs that incorporate multiple functions optimized for battery drive operation.
Key Features
1. Optimized for ultra-low-voltage rechargeable nickel metal hydride batteries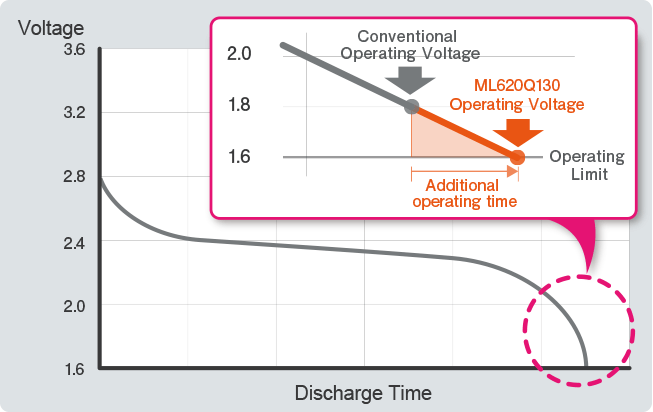 The minimum operating voltage has been decreased, from the conventional 1.8V to 1.6V. This extends the supply voltage detection range down to 1.63V (typ.) – very close to the voltage of 2 nickel metal hydride batteries (0.8V×2=1.6V) – reducing the number of charge cycles and memory effects while prolonging battery life.
Rechargeable nickel-metal hydride batteries are susceptible to the 'battery effect', which causes the batteries to 'remember' a smaller capacity if repeatedly recharged after only being partially discharged, losing their original energy capacity. This may lead to a steep voltage drop once the smaller capacity is reached, abruptly halting operation and requiring premature recharge. However, this effect may be overcome and original battery capacity restored by subjecting the batteries to deep charge/discharge. This phenomenon underscores the importance of correctly utilizing NiMH batteries.
2. Improves basic performance and reduces current consumption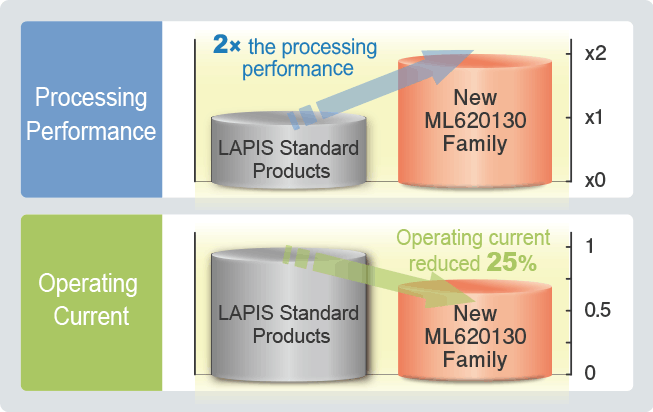 16MHz CPU and 32MHz (PWM) peripheral clock operations increase performance by 2-fold over ROHM standard lineup of 'tough' MCUs, while operating current is reduced by more than 25%*.

*Compared to typical published values
3. Class-leading high-accuracy on-chip oscillator eliminates the need for an external oscillator
A high-accuracy on-chip RC-type oscillator is built in (±1%@-20°C to ±85°C, ±1.5%@-40°C to +105°C). UART communication (asynchronous method), which has been widely adopted for a variety of uses as an interface for external equipment, is enabled throughout the entire temperature range without an external oscillator, reducing peripheral component costs. In addition, both full-duplex (×1ch) and half-duplex (×2ch) modes are allowed, and in the event that bidirectional communication is not required at the same time the 2 receiving terminals and 2 transmission terminals can be flexibly assigned, making it possible to mount on smaller boards.
4. Superior noise immunity
High noise immunity inherited from LAPIS Semiconductor's conventional lineup of low-power MCUs makes it possible to clear the ±30kV Level 4 measurement limit (air discharge: ±15kV) of the IEC61000-4-2 standard*1. In addition, implementing circuit enhancements related to power lines and noise intrusion pathways resulted in a 30% improvement in noise resistance (verified via indirect discharge using LAPIS Semiconductor's reference board under specific conditions).
【Notes】
*1: Electrostatic immunity testing standard
Applications
Sensor modules, battery charge control, compact electric tools, portables, industrial equipment
Sales Plan
Sample Availability : Available (ML620Q133, ML620Q136)
Availability : Now
Production Schedule : From Dec. 2015 (100,000pcs/month)
Specifications
Parameter
ML620Q130Family
Q131
Q132
Q133
Q134
Q135
Q136
CPU
LAPIS Semiconductor Original
16bit RISC Core (nX-U16 / 100)
Clock
High Speed
Internal RC Oscillator : 16MHz
Low Speed
Internal RC Oscillator : 32.768kHz
Internal Memory
Program Area
8KB
16KB
24KB
8KB
16KB
24KB
Data Area
2KB
SRAM
2KB
Serial I/F
SSIO
1ch
I2C
1ch
UART (Full Duplex)
1ch(or Half Duplex : 2ch)
Analog I/F
10bit SA Type ADC
6ch
8ch
Analog Comparator
2ch
General Ports
11ch
15ch
Other Functions

Safety/diagnostic

RAM guard

ADC test

RAM error reset

Clock monitoring

Guaranteed
Operating Range
Operating Temp
-40°C to 105°C
Operating Voltage
1.6V to 5.5V
Package

16pin SSOP

16pin WQFN

20pin TSSOP
Contact
For customers' inquiry regarding this release: please go to

the inquiry page
* Information in the press releases is current on the date of the press announcement, but is subject to change without prior notice.
*Please note that the names of companies and products described in this document are the trademarks or registered trademarks
of their respective companies and organizations.
Back number
of news release