> Company Profile > News release 2016 > 16bit Ultra-Low-Power MCUs'ML620Q416 / 418'
16bit Ultra-Low-Power MCUs ML620Q416 / 418
New Low-Power MCUs Support Larger Display Sizes
in Wearable Devices
Ideal for long-term operation in the expanding wearable and smartwatch segments

Summary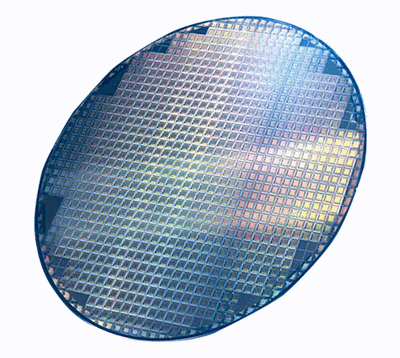 ROHM Group Company LAPIS Semiconductor has recently announced the availability of a new lineup of 16bit low-power microcontrollers that integrate an LCD driver optimized for smart watches and other wearable devices.
The ML620Q416/418 are equipped with a real-time clock function along with an LCD driver and power supply circuit for driving larger HD 2048-dot (33% larger than conventional) LCDs. In addition, sensor processing capability is enhanced to enable support for multiple sensors (i.e. gyroscope/magnetic sensor offset compensation calculation).This makes it possible to achieve advanced operation utilizing sensor data, such as pedometer with navigation function, as well as display sophisticated graphs and icons in activity meters and other wearable devices when used in combination with an LCD and multiple sensors. A clock function is also built in that provides greater design flexibility to fit various needs (i.e. health monitoring and management) while maintaining normal watch operation, opening up new possibilities and applications in the wearable market.
With the increased proliferation of wearable devices and IoT comes a greater demand to send a variety of data such as activity and health monitoring data to the cloud via short-range wireless communications protocols. Also important is the ability to enable continuous detection by ensuring maintenance-free operation and long-term battery life for up to a year, as well as the capability of instantaneously determining the type of content and display it in a colorful, crisp format – all in a compact, portable form factor.
To meet these demands and achieve practical realization by integrating multiple display functions and sensing in smart watches, LAPIS Semiconductor expanded its MCU lineup with 16bit ultra-low-power MCUs ideal for the latest multifunction displays in wearable devices.
Key Features
1. Compatibility with larger display sizes improve functionality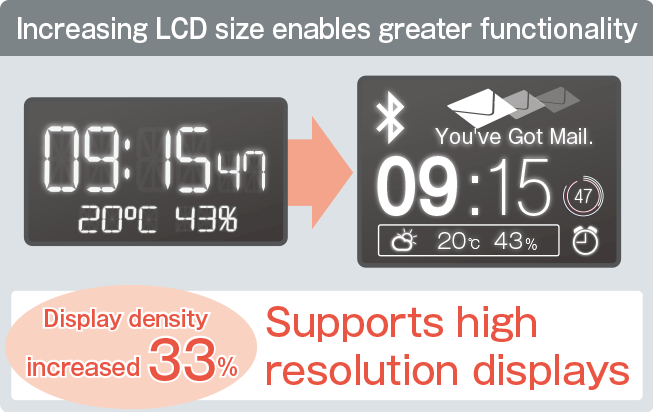 An LCD driver capable of driving 2048-dot (64 segment × 32 common) displays – 33% larger than conventional – is built in, allowing for vivid, high resolution display of a variety of information (i.e. messages, activity data).
2. Provides increased processing capability with lower power consumption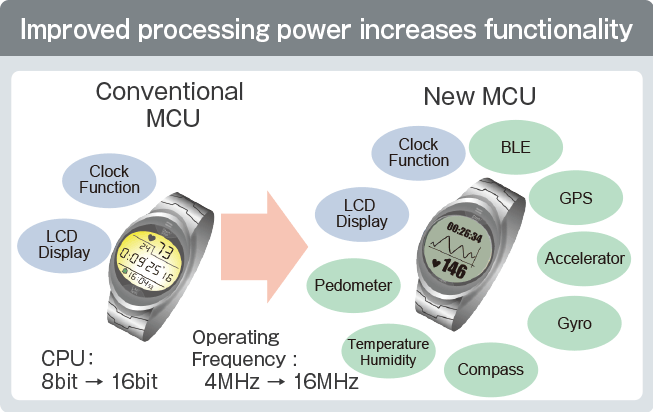 These 16MHz 16bit MCUs improve processing power by over 4x compared with conventional 4MHz 8bit MCUs used in existing smart watches. This supports more advanced applications, such as pedometer navigation and offset compensation algorithm processing of sensor data.
Increasing ROM capacity for sensing and communication function processing and incorporating an LCD drive circuit will result in higher leakage current, adversely affecting battery life. In response, these MCUs integrate a DC/DC converter that cuts operating voltage by half, reducing leakage current during non-operation and achieving low power consumption comparable with conventional low-power MCUs (0.38µA during Halt mode).
3. Reference kit reduces sensor watch software/hardware development man hours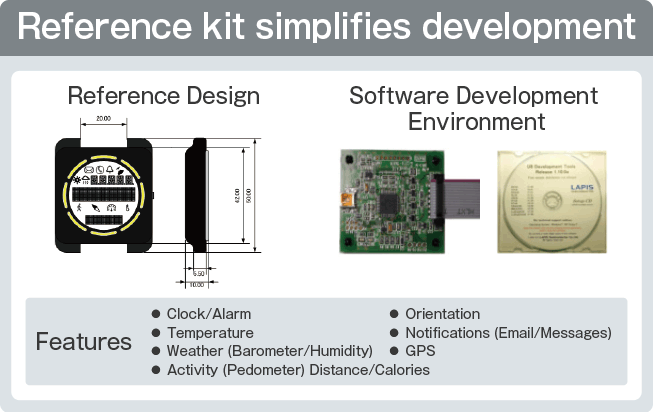 A reference kit was recently released that simplifies sensor watch development.
In addition to the low-power MCU, an LCD panel, BLE communication module, GPS module, and multiple sensors (accelerometer, magnetic sensor, temperature / humidity sensor) are built in, making it possible to immediately begin development using a variety of application software.
Applications
Smart watches, wearables, thermostats, bike meters, electronic shelf labels, calculators
Sales Plan
Part No. : ML620Q416 / ML620Q418
Sample Availability : Now
Production Schedule : From August 2016(Production Quantity : 100,000pcs/month)
Specifications
Parameter
ML620Q410 Series
ML620Q416
ML620Q418
CPU
LAPIS Semiconductor Original
16bit RISC Core (nX-U16 / 100)
Clock
High Speed
Internal RC Oscillator : 16MHz
Low Speed
Internal RC Oscillator : 32.768kHz
Internal
Memory
Program Region
128KB
256KB
Data Region
4KB
SRAM
16KB
Serial I/F
SSIO
1ch
I2C
3ch
SPI
1ch
UART (Full Duplex)
3ch
Analog I/F
10bit Successive Approximation Type ADC
-
12bit Successive Approximation Type ADC
12ch
24bit RC Type ADC
2ch
Analog Comparator
2ch
General Purpose Ports
52ch
Other Functions

LCD Driver : 2,048 dots (64Seg × 32Com) 1/3 to 1/5 bias
Real-time clock : 3ch

Guaranteed Operating Range
Operating Temperature
-40°C ∼ 85°C
Operating Voltage
1.8V ∼ 3.6V
Package
Chip sales
Contact
For customers' inquiry regarding this release: please go to

the inquiry page
* Information in the press releases is current on the date of the press announcement, but is subject to change without prior notice.
*Please note that the names of companies and products described in this document are the trademarks or registered trademarks
of their respective companies and organizations.
Back number
of news release