> Company Profile > The latest news release list > Bluetooth Smart Communication LSIs ML7125
Bluetooth® Smart Communication LSIs ML7125
New Bluetooth® Smart Communication LSIs Enable
Ultra-Long Life Using a Single Coin Battery
60% less average current consumption provides 70,000hr battery life
for the expanding wearable device and IoT markets
Summary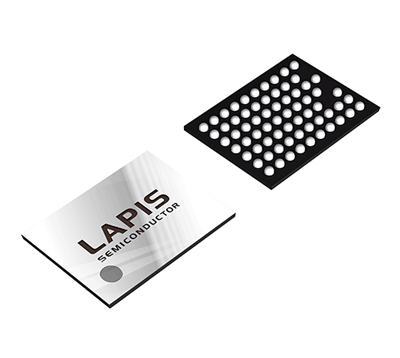 LAPIS Semiconductor has recently announced the availability of Bluetooth® Smart (Ver 4.1) compliant 2.4GHz wireless communication LSIs optimized for medical devices, activity trackers, and other wearables that require longer battery life using compact batteries.
The ML7125 series leverages proprietary 0.15µm low-power CMOS processes in order to reduce receiving current consumption from 9mA to a class-leading 5.8mA while at the same time minimizing sleep current to 0.3µA (from 0.7µA). In addition, optimized firmware makes it possible to decrease active time during transmission/reception by half, to 5ms, cutting average current consumption by 60% over conventional products. This translates to a battery life of approx. 70,000hrs (vs 26,000hrs with conventional) using a single CR2032 200mAh button battery (calculated with 2s send/receive interval).
Users can select between the ML7125-001 Bluetooth® 4.1 compliant 2.4GHz wireless communication LSI, ideal for wearables and fitness trackers, and the ML7125-002 Slave-only LSI designed for IoT, serial communication, and beacon applications.
Going forward, LAPIS Semiconductor will continue to develop wireless devices that make it easy to establish wireless communication for the IoT and wearable markets that demand greater power savings.
Bluetooth® Smart has been widely adopted in a variety of portable devices (i.e. wearables), as well as the rapidly expanding IoT sector. However, improving functionality, such as by adding Bluetooth® Smart communication, tends to result in greater current consumption, with battery size directly linked with the size of the device. This increases the demand for power savings that can prolong battery life.
Key Features
1. Class-leading low current consumption
Integrating LAPIS Semiconductor's market-proven low power consumption wireless communication transceiver architecture with RF circuitry, direct modulator, and single-end circuit makes it possible to achieve a class-leading transmission/reception current of 5.8mA. In addition, optimization of the active period results in 60% lower average current consumption compared with conventional products.
| Condition | ML7105 | ML7125 |
| --- | --- | --- |
| Cl = 2sec,PDU = 0oct | 7.70µA | 2.94µA |
| Cl = 1sec,PDU = 0oct | 14.71µA | 5.61µA |
(CI : Connection Interval, PDU : Protocol Data Unit)
What is average current consumption
Battery life is not determined by the peak current during transmission/reception listed in the spec sheet, but instead by the average current consumption (including during Sleep). Calculating battery life using a single CR2032 (200mAh) button battery using the values for average current consumption listed in the above table, with a transmission/reception interval of 2s, results in a battery life of 70,000hrs with the ML7125 compared with only 26,000hrs with the conventional product – an increase of 2.6x.


(Expected battery life considering only this LSI operation. Please note that these values my vary depending on the transmission/reception interval, external circuitry, battery characteristics, and other conditions.)
2. 2 models offered to suit application requirements
The lineup includes 2 versions of the ML7125 model to provide broader compatibility.
Bluetooth Core v4.1 compliant type (ML7125-001)




The ML7125-001 is compliant with Bluetooth® 4.1 and features Master/Slave functionality that enables connection with up to 2 Slaves simultaneously. Control is made possible by connecting an external MCU via a proprietary I/F (BACI: Bluetooth Application Controller Interface), reducing system power consumption. Ideal for healthcare devices and fitness trackers.

SoC enables operation on a single chip (ML7105-002)




ML7125-002 is a Slave-only wireless LSI specialized for beacon and serial communication that utilizes ML7125-001 firmware to maintain low current consumption without an external MCU. Optimized for products employing serial and Beacon communication protocols.
3. USB evaluation kit available (FCC/CE/TELEC sartified, IC:planning 2016.Apr.)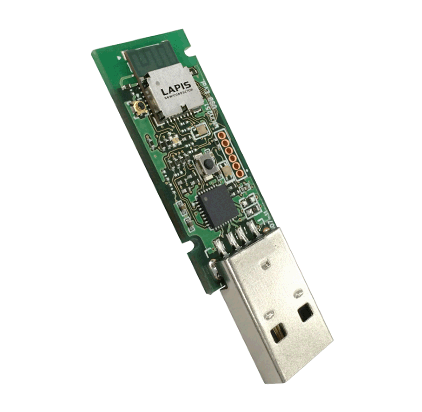 LAPIS Semiconductor offers a USB evaluation kit capable of Bluetooth® Smart compliant 2.4GHz communication using a Windows® PC. In addition to simplifying communication between PCs using LAPIS Semiconductor's VSSPP software, connection to both Android (4.3 or later) and iPhones are enabled.

Applications
Sport watches, fitness trackers, healthcare devices, IoT,
remote controls, smart key/beacon/serial communication
Sales Plan
Part No. : ML7125-001/ ML7125-002
Sample Availability : ML7125-001 / NOW , ML7125-002 / NOW
Sample Price : $7 (tax not included)
Production Schedule : December 2015 (100,000pcs/month)
Packaging : Tape and reel (2,000pc/reel)
ML7125-00x Specifications
Parameter
Characteristics Values
Features

Bluetooth6® SIG Core Spec v4.1compliant
Low power consumption wireless communication LSI
WL-CSP package
Bluetooth6® Host Controller Interface for UART
Custom Host Controller Interface for SPI_SLAVE
128KB ROM (CODE_ROM) for program storage
8KB/24KB RAM (DATA_RAM) for user applications
I2C (Master and Slave) for EEPROM or Custom Host Controller I/F
Linear and switching regulators

Supply Voltage
3.3V Typ. (1.6 to 3.6V)
Current Consumption

0.3µA(Sleep Mode)

Typ.5.8mA (Transmission using DC/DC)

Typ.5.8mA (Reception using DC/DC)

Package
67pin 0.4mm pitch WL-CSP (3.12mm × 4.69mm )
Contact
For customers' inquiry regarding this release: please go to

the inquiry page
* Information in the press releases is current on the date of the press announcement, but is subject to change without prior notice.
*Please note that the names of companies and products described in this document are the trademarks or registered trademarks
of their respective companies and organizations.
Back number
of news release