Jul 16, 2015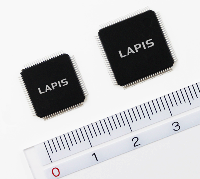 LAPIS Semiconductor, a ROHM Group company, has recently announced the development of the ML620530/540/550 family of 16bit low power microcontrollers, which builds upon the general-purpose ML620500 series by integrating 256KB flash memory along with enhanced communication and sensor functionality to meet the needs for greater performance and functionality required in consumer electronics and home appliances
These new microcontrollers combine a proprietary 16bit low-power CPU core with
a newly developed successive approximation AD converter featuring class-leading 1.25us conversion speed and high accuracy (±1%) oscillation circuit, ensuring efficient processing of multiple analog inputs (i.e. from sensors) and operations requiring high oscillation accuracy such as mutual data communication between devices without the need for an external oscillator, making it possible to configure simpler systems.
Specifically, this allows support for applications that utilize networks in the future, such as serial communication that enables wireless connection with HEMS/BEMS equipment and multi-channel analog input for motion, temperature, pulse, and other biological sensors used in health care equipment, as well as conventional sensing and actuation that contribute to greater energy savings and convenience in today's home appliances and electronics.
The new lineup consists of 6 models, available in 3 different pin counts (64/80/100pin) and 2 internal flash memory capacities (128/256kB), making it possible to meet a wide range of needs, including for greater application functionality and increased software capacity.

In recent years, expanding application functionality, combined with the increased adoption of networks to support multi-sensing operation following the proliferation of sensors and HEMS/BEMS, have resulted in greater demand for microcontrollers featuring higher performance and efficiency along with lower power consumption.
In response, LAPIS Semiconductor expanded its ML620500 series of 16bit microcontrollers based on market-proven proprietary low power technology by adding 6 new models that provide enhanced functionality and higher capacity.
Key Features
1. Improved peripheral functionality with built-in 256kB flash ROM
These new microcontrollers incorporate a number of additional functions and features, including 256KB (max.) ROM, 90ch general-purpose ports, 20ch successive approximation AD converter, 8ch multifunction timer for stepper motor
pulse generators, 1ch 3-phase PWM, and serial communication ports for wireless ICs, peripheral microcontrollers, and more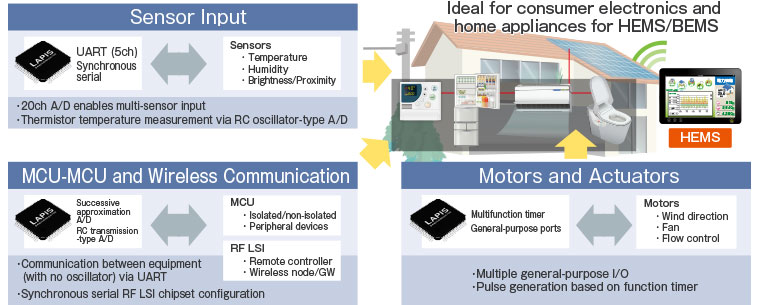 2.New high-speed AD converter and high accuracy RC oscillator
LAPIS Semiconductor's newly developed successive approximation A/D converter features a conversion time of only 1.25us per channel, allowing efficient conversion from analog to digital of up to 20 channels. This makes it possible to configure systems utilizing multiple sensors. In addition, the internal RC oscillator achieves ±1% accuracy, enabling asynchronous operation without an external oscillator.
3.Maintains the basic features of ML620500 series microcontrollers
In addition to the above functions, the new lineup maintains the basic characteristics of the ML620500 series
(see below), ensuring high performance operation in home appliances and systems.
(1) Multiple power down modes provide lower power consumption

Combining multiple subdivided power down modes enable further reductions in power consumption
(based on LAPIS Semiconductor evaluation conditions).


(2) In System Programming (ISP)

The programmable memory can be rewritten to using the built-in software.
And installing a target program into the ISP area allows it to be rewritten via network in the field.

(3) Wide power supply voltage range supports a variety of applications

A wide range of supply voltages are covered, from 1.8V to 5.5V.
In addition, high-speed 16MHz processing is enabled, supporting a variety of applications including battery-driven devices, industrial equipment, home appliances, and housing equipment.

(4) Backup function prevents MCU malfunctions even during external clock stoppages

If the external clock stops for any reason, the internal backup clock is automatically activated,
preventing MCU malfunction.

(5) Comprehensive support system

A reference board and software development environment are provided as a package, and additional tools
such as manuals and tools can be accessed online (registration required).

Applications
Industrial equipment, housing equipment, and home appliances such as AC, and water heaters
Sales Plan
Product Lineup

Memory Size
128KB Flash
+
10KB RAM
256KB Flash
+
20KB RAM
64pin
ML620Q536
ML620Q538
80pin
ML620Q546
ML620Q548
100pin
ML620Q556
ML620Q558

Sample Availability From February 2015 (ML620Q558)
Product Availability From August 2015
Production Volume 100,000pcs/month
Specifications
Parameter
Specifications
Original High-Performance 16bit RISC Core
16bit instruction, rich instruction set such as transfer, arithmetic, comparison, logic, and multiplication/division
On-chip debugging function
Minimum instruction execution time: 30.5us (32.768kHz system clock), 62.5ns (16MHz system clock)
Internal Flash ROM with Self-Writing Function
128KB Flash+10KB RAM (ML620Q536, ML620Q546, ML620Q556)
256KB Flash+20KB RAM (ML620Q538, ML620Q548, ML620Q558)
Data Flash
2KB
High-Speed Oscillator Clock
16MHz (±1%)
Low-Speed Oscillation Clock
32.768kHz (±5%)
8bit Timer
12 ( 8bit timer × 2 → 16bit timer )
16bit Multifunction Timer
8 (16MHz operation, selectable timer/PWM)
3-Phase Motor PWM
1
Real-Time Clock
1
Multiplication/Division Coprocessor
(Supports multiplication/division/product-sum operations)
Various Serial I/F
I2C (Master) × 2, SPI × 2, UART (Full Duplex with FIFO) × 4,
UART (Full Duplex) × 1
Analog Comparator
2ch
10bit SA A/D Converter
20ch (1.25us conversion time per channel)
24bit RC-Type A/D Converter
2ch
Voltage Level Detector
16 levels × 1
Operating Frequency
32.768kHz to 16MHz
Operating Temperature
-40 to 95°C
Supply Voltage
1.8V to 5.5V
Packages
ML620Q536, ML620Q538:TQFP64 (10.0mm × 10.0mm)
ML620Q546, &ML620Q548:TQFP80 (12.0mm × 12.0mm)
ML620Q556, ML620Q558:TQFP100 (14.0mm × 14.0mm)
Contact
For customers' inquiry regarding this release: please go to

the inquiry page
* Information in the press releases is current on the date of the press announcement, but is subject to change without prior notice.
*Please note that the names of companies and products described in this document are the trademarks or registered trademarks
of their respective companies and organizations.