May 21, 2015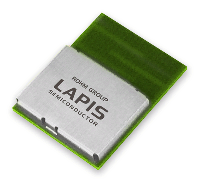 ROHM Group Company LAPIS Semiconductor has recently developed a Bluetooth Smart compatible 2.4GHz wireless module ideal for health & fitness devices, sports equipment, and more.
The MK71050-03 integrates an EEPROM for program storage, crystal oscillator for the system clock, and a pattern antenna into a single compact module, eliminating the need for circuit adjustments for wireless communication. In addition, wireless certification has been acquired for all major regions (Japan, North America, Europe). This makes implementation easy – even for inexperienced users.
And from today ROHM will begin offering a USB evaluation kit that enables serial communication with the module and PC through 3 distributors online: RS Components, Chip One Stop, and Core Staff. The necessary documents and sample software can be downloaded online as well to enable wireless communication using this module. Also, a smartphone app (BLE Tool) compatible with the USB evaluation kit is available (free of charge) that makes it possible to test Bluetooth® Smart communication using a smartphone.
Going forward LAPIS Semiconductor will continue to develop wireless communication modules and LSIs that make it easy for almost anyone to easily configure a wireless communication environment for IoT applications and devices.
The advent of the Bluetooth Smart standard for connecting devices such as wearable tech with smartphones, notebook PCs, and tablets is expected to result in increased adoption in a variety of locations. However, developing wireless communication devices requires a high level of expertise and experience in antenna design and circuit optimization along with extensive testing. In response, LAPIS Semiconductor leveraged proprietary technology and know-how to develop the easy-to-use Bluetooth Smart MK71050-03 wireless communication module. And being the industry's only wireless LSI manufacturer offering wireless modules makes LAPIS Semiconductor uniquely qualified to provide superior support for customer questions and requests and act as a one-stop-shop for LSIs, modules, and more.

Key Features
The MK71050-03 low power Bluetooth Smart compatible module was developed around the concept of
"ease-of-use", and offers a number of benefits.
1.Class-leading low power consumption Bluetooth Smart module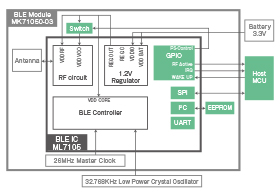 1-1.Integrates LAPIS Semiconductor's market-proven
ML7105 LSI to achieve lower power consumption

Incorporating the ML7105 which incorporates a simple transceiver architecture and single end circuit along with a direct modulator to achieve a low power RF circuit makes it possible to reduce current consumption to less than 9mA during transmission/reception.
2.Adjusted circuitry • Wireless certified • Easy evaluation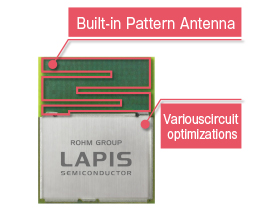 2-1. Adjusted circuit with built-in pattern antenna

The internal pattern antenna optimized for the ML7105 was developed in collaboration with Insight SiP of France*1 .
The EEPROM, crystal oscillator, and antenna matching circuit required for configuring a wireless communication module are included as well. And all required performance optimizations are performed at LAPIS Semiconductor's facility, making it possible to easily enable wireless connectivity in a variety of devices even for customers unfamiliar with wireless communication.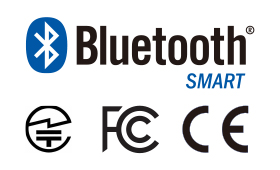 2-2. Wireless certified

Wireless communication products are subject to the regulatory usage conditions of the laws of each country and/or region.
The MK71050-03 is certified to comply with all applicable radio laws and regulations in Japan, North America, and Europe.
And naturally due to interoperability as a Bluetooth Smart device Bluetooth SIG*2 certification has been acquired.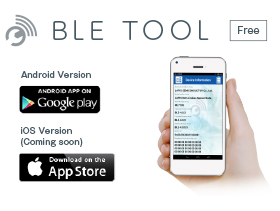 2-3. Evaluation kit simplifies evaluation with smartphones

A free smartphone application is offered that makes it possible to verify and evaluate communication with Bluetooth Smart devices using a smartphone. And profiles and services such as HRP (Heart Rate Profile), HTP (Health Thermometer Profile), BLP (Blood Pressure Profile), GLP (Glucose Profile), BAS (Battery Service), DIS (Device Information Service) are enabled as well.
Terminology
*1 : Insight SiP

A fabless design company based in Sophia Antipolis, France, specializing in RF System-in-Package design.
Boasts a proven track record in consumer products, smartphones, and compact wireless devices.

*2 : Bluetooth SIG

Bluetooth Special Interest Group, Inc. is a standards organization established in 1998 that oversees the development of Bluetooth standards and licensing of Bluetooth technologies.
Applications
Health & fitness devices (i.e. heart monitors, thermometers, blood glucose meters, treadmills),
remote controllers, computer mice, smart keys
Sales Plan
Part No : MK71050-03
Availability : Now (Samples), April 2015 (OEM Quantities)
Packaging : Tape and reel
Specifications
Parameter
Specifications
Features
Bluetooth SIG Core Spec v4.0 compliant
Low power consumption wireless communication module
SiP (System in Package) design
Bluetooth certified
Wireless certification acquired for various countries
- Radio Law (Japan)
- FCC 15.212 modular certification (US)
- EN300 328 (Europe)
EEPROM built in for storing user data (16kB max.)
UART I/F for Bluetooth® Host Controller
SPI (Slave) I/F for Custom Host Controller
Supports low power clocks (32.768kHz) for intermittent operation
Built-in regulator
Supply Voltage
3.3V Typ. (1.6 to 3.6V)
Current Consumption
0.7uA (Sleep Mode)
9mA typ. (Transmission)
9mA typ. (Reception)
Package
52pin LGA (10.7mm × 13.6mm × 1.78mm)
Contact
For customers' inquiry regarding this release: please go to

the inquiry page
* Information in the press releases is current on the date of the press announcement, but is subject to change without prior notice.
*Please note that the names of companies and products described in this document are the trademarks or registered trademarks
of their respective companies and organizations.