Jan 23, 2015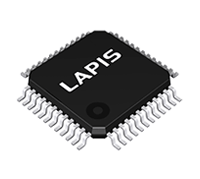 LAPIS Semiconductor, a ROHM Group company, has recently announced the development of the ML620100 series [ ML620150 family ] of 16bit low power microcontrollers featuring superior noise resistance and high-temperature compatibility ideal for home electronics and industrial equipment equipped with a motor, compressor, heater, or other noise-generating components.
The ML620150 family follows on the heels of the ML620500 series released in September of last year. In addition to LAPIS Semiconductor's market-leading low power consumption design technology, this new series utilizes original noise resistance circuitry to achieve the highest level of performance in IEC61000-4-2 noise testing. And the microcontrollers themselves are highly resistant to noise, eliminating the need for additional noise countermeasures. They also feature a wide operating temperature range, from -40°C to +105°C, making them suitable for use even in high temperature environments. In addition, 4ch 16bit PWM*1 output enables control of IGBTs*2, providing compatibility with rice cookers, bread machines, induction heaters, and other high power applications.
A large number of consumer electronics devices and industrial equipment use motors, compressors, heaters, and other parts that generate noise. And some home electronics in particular work using the same power supply line in the kitchen, where countermeasures against power supply noise such as a system level shield are required. Also, many appliances and industrial equipment are exposed to high temperature environments due to the heat generated by motors and heaters, and therefore require stable operation at high temperatures.
At the same time, although 8bit MCUs have been widely adopted in consumer electronics, the need to provide greater comfort and convenience is driving automation, greater functionality, more accurate sensors, and higher MCU performance, leading to a shift towards 16bit microcontrollers.
To meet these needs for high noise tolerance, high temperature compatibility, and greater performance, LAPIS Semiconductor offers a total of nine 16bit low power microcontroller products in 3 different memory capacities and 3 package types.
Terminology
*1 :PWM Pulse width modulation
*2 : IGBT Insulated gate bipolar transistor
LAPIS Semiconductor Microcontroller Series

Key Features
Superior noise immunity exceeds Class 4 in IEC61000-4-2 noise testing

The ML620150 series adopts the same circuit configuration as the ML610100 family of 8bit MCUs, making it possible to clear the ±30kV measurement limit which exceeds the highest level (Class 4, ±8kV) for indirect discharge testing stipulated by the international standard IEC61000-4-2.




Guaranteed operation up to 105 °C supports use
in even extreme temperature environments

A wide operating temperature range (-40°C to +105°C) is ensured – ideal for industrial equipment and consumer devices ( i.e. rice cookers and bread machines ) exposed to high temperatures.



Wide pin pitch package optimized for flow soldering used
in home appliances and industrial equipment

P-TQFP52: 10x10mm, 0.65mm pitch; P-QFP64: 14x14mm, 0.8mm pitch



4ch 16-bit PWM enables control of power IGBTs

A variety of timer functions for efficient PWM control are built in, including an auto-reload timer function, start / stop function based on software / external trigger, and a function for selecting external events in the counter clock, making it possible to control power IGBTs.



Comprehensive support system

A reference board and software development environment are provided that make evaluation quick and easy, and registered users can access tools and download user manuals and technical documents from our website.


ML620150 Family Specifications
MCU Core

LAPIS Semiconductor's original 16bit RISC core (Core Name: nX-U16/100)

Operating Clock

Low-speed clock/External crystal oscillator (32.768 kHz), Internal low-speed RC oscillator (32.768 kHz)
High-speed clock/Internal PLL oscillator (8.192 MHz), Internal RC oscillator (2.097 MHz)

Internal Memory

ROM (Flash) 32 K-64 KByte
Data Flash 2 KByte
RAM 2 KByte

Timer

16bit × 4, 8bit × 2
16bit PWM × 4 (supports IGBT control)
Low-speed TBC × 1, WDT × 1

General-Purpose Port

Max. 41 (48 pin), 45 (52 pin), 57 (64 pin) *Without external crystal oscillation
LED display port x 4 (secondary function of general-purpose port)

External Interrupt

7 (48 pin), 8 (52/64 pin)

Serial Interface

I2C (Master) × 1, UART (full duplex) × 1 ((half duplex) × 2), SSIO (SPI) × 1

Analog Interface

10 bit successive approximation type ADC × 12 Comparator × 1

Other Functions

Power supply voltage detection, power-ON reset, clock output, etc.

Operating Frequency
Operating Temperature
Supply Voltage
Package

P-TQFP48: 7×7mm, 0.5 pitch
P-TQFP52: 10×10mm, 0.65 pitch
P-QFP64: 14×14mm, 0.8 pitch
TQFP64: 10×10mm, 0.5 pitch
Sales Plan
Part No.


| ROM | 32KByte | 48KByte | 64KByte |
| --- | --- | --- | --- |
| 48pin | ML620Q151 | ML620Q152 | ML620Q153 |
| 52pin | ML620Q154 | ML620Q155 | ML620Q156 |
| 64pin | ML620Q157 | ML620Q158 | ML620Q159 |

Sample Shipment Period : Ongoing
Mass Production Shipment (Est.) : From March 2015
Production Qty : 150k pcs/month
Applications
Home electronics (e.g. rice cookers, vacuum cleaners, toaster ovens, dryers, and shavers)
and general industrial equipment
Contact
For customers' inquiry regarding this release: please go to

the inquiry page
* Information in the press releases is current on the date of the press announcement, but is subject to change without prior notice.
*Please note that the names of companies and products described in this document are the trademarks or registered trademarks
of their respective companies and organizations.