Nov 04, 2014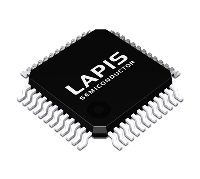 LAPIS Semiconductor, a ROHM Group Company, has recently announced the development of general-purpose 16bit low power microcontrollers optimized for industrial equipment, household appliances, battery-powered devices, and consumer applications which require high-speed processing capability with low power consumption.
In recent years the demand for low power consumption is increasing for microcontrollers in a variety of applications, from consumer electronics and battery-powered devices to industrial equipment, home appliances, and sensor control terminals such as data loggers. Improved functionality and performance are also necessary as communication functions such as wireless modules are added and data capacity increases to accommodate larger more sophisticated systems.
In response, the ML620500 series (ML620Q503/Q504/Q506) integrates a newly designed proprietary high efficiency 16bit low power CPU core and rewriteable flash memory for ISP that enables on-board programing. Additional features include a clock frequency significantly faster than conventional 8bit low power microcontrollers and a multiplier/divider function for improved computational performance, enabling support for more complex applications that combine numerous sensors and wireless modules such as Bluetooth. Multiple power-down modes are also provided that reduce average overall power consumption even further.
LAPIS Semiconductor MCU Series

Key Features
Superior performance with ultra-low power consumption

To meet the needs of functions and applications that exceed the capability of conventional 8bit 4MHz CPUs, LAPIS Semiconductor has improved performance by doubling the CPU bus width and quadrupling the operating frequency to 16bits and 16MHz, respectively, while maintaining a Halt current of only 450nA.
The result is superior processing power that enables graphical LCD and communication control
with low power consumption.




Multiple power-down modes help reduce power consumption

Most microcontrollers transition to a power-down mode that consumes less power
when the CPU is idle in order to minimize average power consumption.
Unlike conventional 8bit low power microcontrollers that simply switch between operating and power down modes, LAPIS Semiconductor's new 16bit MCUs subdivide the power-down mode and utilize optimized mode combinations to reduce power consumption even further.
(*Based on LAPIS Semiconductor evaluation conditions)



Reduces Average Current Consumption Through Optimized Power-Down Mode Combination

Wide power supply voltage range supports a variety of applications

In order to support not only battery-driven sets but industrial equipment applications,
this new series features a wide supply voltage range, from 1.8V to 5.5V.
In addition, high-frequency (16MHz) operation is utilized throughout the entire range, providing superior high-speed processing capability.



Backup function prevents microcontroller runaway even during external clock failure

A newly developed backup function is included that detects clock stoppages and quickly switches to the backup clock in order to prevent microcontroller malfunctions.



Comprehensive support system

A Quick Starter Kit, which includes a reference board and software development environment,
is offered that makes it easy to begin evaluation.
Users can also access manuals, tools, and other materials online (registration required).


Applications
Loggers and other sensor control terminals, home appliance control, industrial/consumer control displays,
personal healthcare devices, electronic shelf labels, thermostats, meters, industrial equipment control
Sales Plan
Part No.

ML620Q503/ML620Q504/ML620Q5066

Sample Shipment Period

from October 2014

Expected Mass Production Shipment

From December 2014
Specifications
Original High-Performance 16-bit RISC Core

16bit instruction, rich instruction set including transfer, arithmetic operation, comparison, logic operation,
and multiplication/division
On-chip debug function built in
Minimum instruction execution time 30.5us (32.768kHz system clock) 62.5ns (16MHz system clock)

Flash memory built in with Self-Write Function

32KB Flash+2KB RAM (ML620Q503)
64KB Flash+6 KB RAM (ML620Q504)
128KB Flash+12KB RAM (ML620Q506)

Data Flash : 2KB
High-Speed Oscillation Clock : 16MHz (±1%, 25°C), (±5%, -40 to 85°C)
Low-Speed Oscillation Clock : 32.768kHz (±1%, 25°C), (±3%, -40 to 85°C)
8bit Timer : 8 (2 × 8bit timer can be used as a 16bit timer)
16bit Multifunction Timer : 4 (Operable at 16MHz, selectable Timer/PWM)
Multiplication/Division Coprocessor : (Multiplication, division, and product-sum operations)
Serial Interface
Analogue Comparator : 2ch
12bit Successive Approximation Type A/D Converter : 12ch
24bit RC Type A/D Converter : 2ch
Power Supply Voltage Monitoring Circuit
Low Voltage Detection Circuit
Operating Frequency : 32.768kHz to 16MHz
Operational Temperature : -40 to 85°C
Supply Voltage : 1.8V to 5.5V
Package : TQFP48 (7.0mm × 7.0mm)
Contact
For customers' inquiry regarding this release: please go to

the inquiry page
* Information in the press releases is current on the date of the press announcement, but is subject to change without prior notice.
*Please note that the names of companies and products described in this document are the trademarks or registered trademarks
of their respective companies and organizations.