2013 News Release
Nov 18, 2013
Low Power Microcontrollers for Full-Color LED Lighting Solutions

LAPIS Semiconductor Co., Ltd., a ROHM Group Company, has recently announced the development of 8bit low power microcontrollers designed for full-color LED lighting solutions, capable of providing a wide array of colors and brightness settings through precise control.

The ML610Q111 and ML610Q112 are equipped with a 6ch PWM port required for LED lighting that enables control of multiple LEDs, making it possible to not only operate monochrome LEDs (i.e. white, incandescent) independently, but full-color RGB LEDs simultaneously as well. Fine-tuning is enabled to create lighting effects and environments tailored to suit user
tastes and needs.

In addition, a complete support system is provided, including a reference board and software environment, that makes it easy to begin evaluation. Manuals, support tools, and other materials are also available on our website (registration required).

Recent years has seen an increase in demand for advanced dimming and color-changing functionality, along with improved energy-saving performance for LED lighting products. In contrast to conventional lighting devices, which simply feature basic brightness adjustment, LED lighting solutions are capable of producing a wide variety of lighting effects by changing both the brightness and color, which can be optimized for a number of activities, lifestyles, and even time of day (i.e. morning wake-up, relaxing, eating, studying, bedtime), while also displaying stylish, colorful lighting to complement a range of interior designs. Accordingly, the ROHM Group has been focused on the LED lighting market, with LAPIS Semiconductor developing dedicated microcontrollers for LED light control using ROHM's LED technology.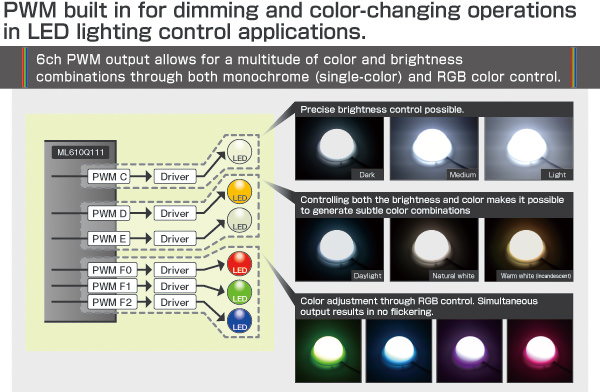 Availability: Now (Samples), December 2013 (OEM Quantities) Pricing: TBD
Key Features
Built-in 6ch PWM for LED control

Required for dimming and color-changing control in LED lighting devices. LAPIS Semiconductor 8bit microcontrollers are capable of controlling 3 single-color LEDs (i.e. white, incandescent, orange) as well as full-color RGB LEDs.
The PWM resolution is 16bit each, allowing for flexible programming of a variety of dimming and color-changing patterns.
Integrated oscillator circuit reduces the number of external parts

The PWM control clock is generated by a newly developed clock oscillator circuit, which, when used in conjunction with the integrated logic power supply regulator, helps reduce the number of external parts required
(i.e. external logic power supply). In addition, the compact package contributes to smaller circuit boards.
Internal comparator enables flexible response to changes in the external environment

Changes in the external environment, such as sudden voltage fluctuations, are monitored by the comparator,
which can then take immediate action to ensure stable operation.
LAPIS Semiconductor's low-power microcontrollers contribute to increased
energy savings

An original high-performance 8bit RISC core has been adopted, featuring class-leading low power consumption.
Safe for use even in applications with stringent noise requirements

The carefully designed circuit and layout ensure high noise immunity, making it possible to clear the ±30kV level*1, which exceeds the measurement limit of Class 4 (±15kV), the highest class defined by the IEC61000-4-2 standard established by the IEC (International Electrotechnical Commission).
This makes the ICs suitable for use in applications with even the most stringent noise requirements
(i.e. industrial equipment).
Comprehensive support system

A complete support system is provided, including a software development environment, user's manual, sample software, and reference board that make it easy to begin evaluation. Various support tools and other materials are also available on our website (registration required).
Terminology
*1 : ±30kV level

Measured via indirect discharge on LAPIS Semiconductor's reference board.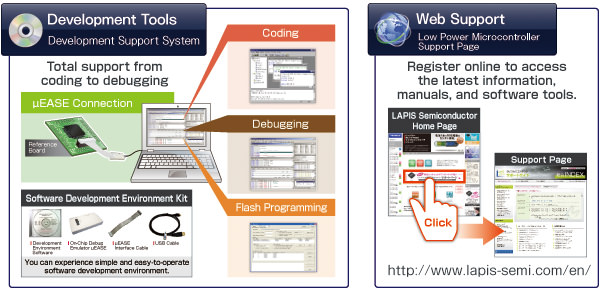 Applications
LED lighting, single-phase fan motors, battery charge controllers, home appliances,
industrial equipment, and more
Sales Plan
Sample Price

ML610Q111: 150 yen (tax not included)
ML610Q112: 200 yen (tax not included)
Mass Production

From December 2013 (TSSOP20, LQFP32)
Specifications
Equipped with LAPIS Semiconductor's original high-performance 8bit RISC core
High-accuracy oscillator (8.192MHz): ±1% (25°C), ±2% (-10°C to 85°C),
±2.5% (-40°C to 85°C)
External logic power supply not required
24KB Flash + 2KB RAM (ML610Q111), 32KB Flash + 4KB RAM (ML610Q112)
8bit timer × 6 (8bit timer × 2 can be used as a 16bit timer)
16bit PWM × 6 (16.384MHz)
Hysteresis comparator with reference voltage and differential input switching × 1
Comparator with reference voltage × 1
Successive-approximation 10bit ADC: 6ch (ML610Q111), 8ch (ML610Q112)
Power supply voltage monitoring circuit
Packages

ML610Q111 TSSOP20 (6.5mm ×4.4mm)
ML610Q112 LQFP32 (7.0mm ×7.0mm)
Contact
For customers' inquiry regarding this release: please go to

the inquiry page
* Information in the press releases is current on the date of the press announcement, but is subject to change without prior notice.
*Please note that the names of companies and products described in this document are the trademarks or registered trademarks
of their respective companies and organizations.