2012 News Release
November 5, 2012
Industry-Leading 86.5V Battery Protection Chipset Supports Up To 16 Lithium-ion Cells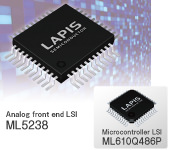 LAPIS Semiconductor has recently announced the development of a chipset designed to control and protect up to 16 lithium-ion battery cells – the most in the industry* – eliminating the need for multiple battery protection LSIs, simplifying configuration while reducing costs.
The MK5238 chipset combines the ML5238 analog front end LSI for collecting battery pack information for control with the ML610Q486P microcontroller LSI designed for monitoring and control. Cell balancing switches that support up to 100mA are built in for cell balancing, eliminating the need for external circuitry. In addition, battery overcharge/discharge detection is possible and the external FET can be driven directly in order to control battery charge/discharge.
*LAPIS Semiconductor November 5 survey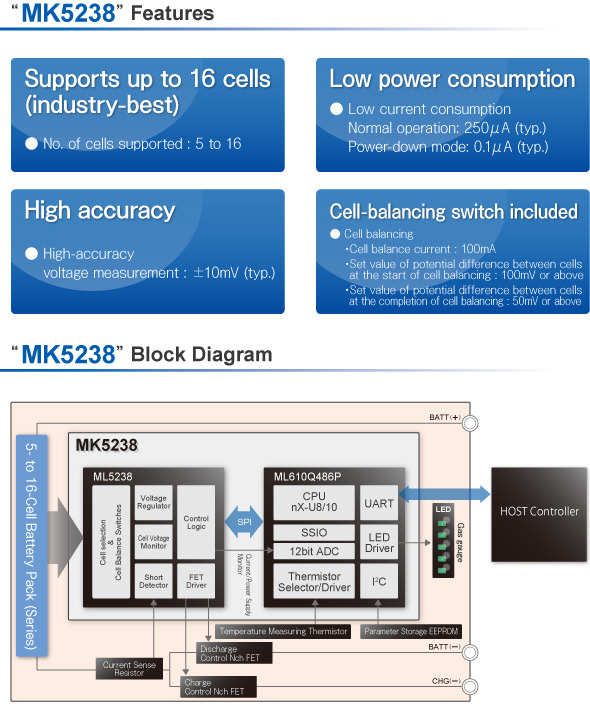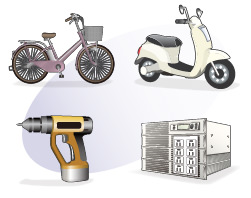 In recent years, as effective utilization of energy has become increasingly important due to global concerns about the environment, lead storage batteries are being replaced by energy-efficient lithium-ion batteries, particularly in the fields of industrial and commercial equipment. The number of applications continues to grow, expanding to electric bicycles, tools, and more.
Regarding lithium-ion battery technology, unlike conventional types, the use of lithium-ion batteries that utilize iron phosphate as a cathode material is expected to increase since they do not use rare earth elements such as cobalt. Plus they present a low risk of thermal runaway and are extremely safe. However, the voltages tend to be lower than standard lithium-ion batteries ( 3.2V-3.3V vs. 3.6V-3.7V ), requiring a greater number of cells to generate the same voltage level along with the need for a battery protection LSI that can support multiple cells.
In response, LAPIS Semiconductor has developed the MK5238 chipset that supports 5- to 16-cell battery packs through a high 80V manufacturing process while maintaining current consumption to conventional levels and reducing current in power down mode to nearly zero. This greatly reduces the load on the battery pack, especially during prolonged storage. In addition, up to five external LEDs can be driven, making it easy to configure battery charge display, and 8-position ( max. ) temperature monitoring is possible via direct connection to a thermometer for added safety.
Key Features
Compatible with series connections of up to 16 cells

• One chipset supports 5- to 16-cell Li-ion battery packs ( highest in the industry ).
This makes it easy to configure higher voltage systems and facilitates the transition from
standard 13-cell Li-ion designs to a 16-cell lithium iron phosphate type.

High-accuracy voltage measurement

• The voltage of each cell can be measured with high accuracy ( ±10mV (typ. ) )

FET drive output for charge/discharge control

• Eliminates the need for an additional driver IC for direct driving of the gate terminal
of the FET for charge/discharge control.

Low current consumption

• Current consumption during operation is maintained at the same level as conventional products
and current during power down mode is nearly zero,
minimizing battery load – particularly during long-term storage.
Normal operation : 250µA ( typ )
Power-down mode : 0.1µA ( typ )
Applications
Electric bicycles ( optimized for systems using iron phosphate Li-ion batteries )
Power tools
UPS ( Uninterruptible Power Supplies )
Sales Plan
Part No.

MK5238 ( ML5238 + ML610Q486P )
*Please note that the ML5238 and ML610Q486P are also sold separately.

Sample Shipment

Available


Sample Price

700¥ ( Tax not included )

Evaluation Board ( Unit )

Available ( Rental only )

Mass Production Schedule

From February 2013
Specifications
Absolute Maximum Rated Voltage

ML5238 : 86.5V

Operating Temperature

ML5238 : -40°C - +85°C
ML610Q486P : -40°C - +85°C

Operating Supply Voltage

ML5238 : +7V - +80V
ML610Q486P : VDD : +1.6V - +3.6V, AVDD : +2.2V - +3.6V

No. of Cells Supported

5 - 16

Voltage Measurement Accuracy

±10mV ( typ )

Charge / Discharge Current Measurement Accuracy

±0.5A ( typ )

MCU IF

SPI

Power Consumption

Normal : 250µA ( typ )
Power-Down Mode : 0.1µA ( typ )

FET for Charge / Discharge Control

Nch FET ( Direct drive )

Package

ML5238 : 44-pin QFP ( 14.5mm × 13.5mm × 2.25mm ) RoHS-compliant , lead-free
ML610Q486P : 48-pin TQFP ( 9.0mm × 9.0mm × 1.2mm ) RoHS-compliant , lead-free
Contact
For customers' inquiry regarding this release: please go to

the inquiry page
* Information in the press releases is current on the date of the press announcement, but is subject to change without prior notice.
*Please note that the names of companies and products described in this document are the trademarks or registered trademarks
of their respective companies and organizations.