2012 News Release
May 25, 2012
The Industry's First Microcontroller with Audio Playback Function

LAPIS Semiconductor (a ROHM Group company) has announced the development of the industry's first* single-chip low power microcontroller that combines existing microcontroller functions optimized for home appliances with a high-fidelity, low power audio playback function. Existing microcontrollers for home appliances typically do not include audio playback functionality, making it necessary to add extra chips that integrate voice synthesis and a speaker amp.
The "ML610Q380" combines LAPIS Semiconductor's market-proven low-power 8bit RISC "U8 core" *2 with high-fidelity voice synthesis capability and a high output speaker amp. A PWM circuit for IGBT*1 control is also built in, along with an LCD driver. Additional features include compatibility with 5V power supplies and hardware-based audio playback operation that eliminates the need for software processing by the CPU.
*LAPIS Semiconductor May 10 survey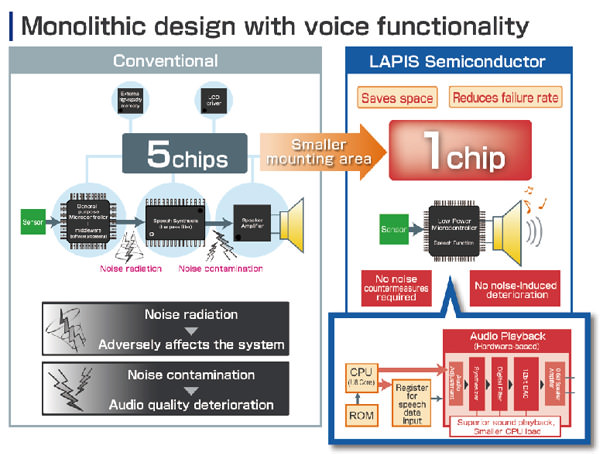 Terminology
* 1 : IGBT(Insulated Gate Bipolar Transistor)
A semiconductor switching element often used for controlling the heating coils in IH cooking
appliances. It performs switching (for inverter control) based on PWM to supply high frequency
current to coils for temperature adjustment in cooking appliances.

* 2 : 8bitCPU " U8 Core "
A processor that achieves high-speed operation through a simplified instruction set
(RISC: Reduced Instruction Set Computing). However, LAPIS Semiconductor's original
"nX-U8/100" features a rich instruction set (58), which includes bit manipulations and
multiplication/division.
In recent years, the trend in the consumer electronics sector has been towards 'universal' designs that make it easy for virtually anyone to operate, as well as 'eco-friendly' devices that feature low power consumption in order to save energy and minimize environmental impact. With this in mind the "ML610Q380" integrates a number of functions required for compact appliances on a single chip, including a standby function that utilizes minimal power.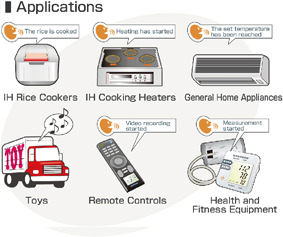 For example, in rice cookers AC power is used for cooking rice or keeping it warm, while battery power is employed for the timer function and clock when the unit is powered down. When only the clock function is in operation the supply current is 3.0µA or less (except when charging/discharging the panel load), making operation possible for extended periods without replacing the battery. This capability can also be applied to other compact appliances.
Adding audio functionality to remote controllers is also easily enabled by simply replacing the microcontroller and adding a speaker. And for applications requiring longer playback time large capacity P2ROM™*3 memory-equipped models are available.
In addition, middleware is typically used for audio playback with a microcontroller. However, LAPIS Semiconductor provides a hardware-based high-fidelity voice synthesis engine that offers a number of advantages over middleware:
Audio playback is processed using dedicated, market-proven hardware that eliminates the need for CPU processing, allowing for fast, error-free program execution
The built-in low-pass filter and speaker amplifier eliminates the need for external parts
The single-chip configuration minimizes the risk of audio deterioration caused by noise radiation and contamination that occur in the components and circuits that lead up to the speaker
Key Features
Proprietary RISC CPU "U8 Core"

The high-speed CPU is capable of processing 1 instruction per clock cycle via a 3-stage pipeline parallel processing*4 architecture.

Built-in PWM circuit for IGBT control

Equipped with a PWM output circuit for controlling IGBTs. It can operate two channels alone or concurrently.

Multiple audio compression methods and low-pass filter for high-fidelity audio built in

A variety of voice synthesis methods are incorporated, including 4bit ADPCM2, 8bit non-linear PCM, 8bit PCM, and 16bit PCM, along with different sampling frequencies (6.4, 8.0, 10.7, 12.8, 16.0, 21.3, 25.6, and 32kHz), allowing the user to combine them as needed. In addition, the integrated low-pass filter provides clear, natural audio playback.

0.6W output Class AB speaker amplifier incorporated

The included Class AB speaker amplifier provides excellent output quality and loud volume, making it ideal for voice guidance applications.

16Mbit P2ROM™*3-equipped models also offered (ML610Q383/384/385)

The ML610Q383/384/385 series includes a range of memory sizes, from 128Kbyte Flash ROM to 16Mbit P2ROMTM, ensuring compatibility with a variety of requirements, including long audio playback and voice guidance. P2ROM™ capacities: 4Mbit (ML610Q383), 8Mbit (ML610Q384), 16Mbit (ML610Q385)

On-chip debugger

Connecting with an on-chip debug emulator (µEASE) allows for software debugging during operation and Erase/Write operations of Flash memory mounted on board, reducing development time considerably.

Clock generator circuits switch between external and internal oscillator modes

The low-speed clock generator circuit enables switching between 32.768kHz crystal and internal RC oscillation (32.7kHz), while the high-speed clock generator circuit can switch between internal PLL oscillation, crystal/ceramic oscillation, or external clock input. Selecting the internal oscillator mode will enable low- and high-speed clock generation without connecting to an external oscillator.
Terminology
* 3 : P2ROMTM
LAPIS Semiconductor's original non-volatile memory.
* 4 : Pipeline Processing
A method that divides each unit of instruction (fetch, decode, execute) and operates
them separately in parallel.
Applications
Compact appliances such as IH rice cookers
IH cooking heaters
Audio remote controls
General home electronics
Toys
Remote controllers
Health and fitness
Sales Plan
Part No.

ML610Q380 / ML610Q383 / ML610Q384 / ML610Q385

Samples

ML610Q380 : Available
ML610Q383 / 384 : June 2012
ML610Q385 : April 2012


Sample Price

ML610Q380 : 350 yen
ML610Q383/384/385 : 500 yen (tax not included)

Evaluation Board

Available

Mass Production

ML610Q380 / 385 : May 2012
ML610Q383 / 384 : July 2012
Specifications
8bit RISC CPU (CPU name : nX-U8 / 100 )

Minimum instruction execution time
Approx. 30.5µs (@32.768kHz system clock)
Approx. 0.122µs (@8.192MHz system clock) @DVDD=2.2V to 5.5V

Internal memory

Built-in 128KByte Flash ROM (64K x 16 bits)
Built-in 2KByte RAM (2048 x 8 bits)
Built-in 16Mbit (max.) P2ROM™(ML610Q383/384/385)
P2ROM™ Capacity : ML610Q383 (4Mbit), ML610Q384 (8Mbit), ML610Q385 (16Mbit)

Interrupt controller

Non-maskable interrupt sources: 2 (Internal : 1, External : 1)
Maskable interrupt sources: 24 (Internal : 20, External : 4)

Time base counter

Low-speed time base counter × 1 channel
High-speed time base counter × 1 channel

Watchdog timer

Timer

8bits × 6 channels (16bit configuration also possible)

PWM

Resolution 16 bits × 2 channels (IGBT control)

Audio output function

Voice synthesis method: 4bit ADPCM2, 8bit non-linear PCM, 8bit PCM, 16bit PCM
Sampling frequency: 6.4, 8, 10.7, 12.8, 16, 21.3, 25.6, 32kHz

0.6W output speaker amplifier

Synchronous serial port × 2 channels

UART (half-duplex communication) × 2 channels

I2C bus interface (master function)

Successive-approximation-type 10bit AD converter (up to 8 channels)

No. of general-purpose ports: 45 (max.)

LCD driver

Up to 96 dots (24seg × 4com), 1/1 to 1/4 duty

Power supply voltage detection function

Reset

Clock

Low-speed clock: Crystal oscillator (32.768kHz), internal RC oscillator (32.7kHz)
High-speed clock: Internal PLL oscillator, crystal/ceramic oscillator (8MHz), external clock input

Power management

Operating current (Typ.)

Standby : HALT Mode: 2.0µA
STOP Mode: 0.7µA
Current : 32kHz : 13µA (100% CPU operating ratio, VDD=3V)
8MHz : 5mA (100% CPU operating ratio, VDD=5V)

Package type: 80-pin QFP

Guaranteed operating range

Operating temperature : -40°C - 70°C
Operating voltage: DVDD=P5VDD= 2.2V to 5.5V, SPVDD =4.5V to 5.5V, VREF =4.5V to 5.5V
Contact
For customers' inquiry regarding this release: please go to

the inquiry page
* Information in the press releases is current on the date of the press announcement, but is subject to change without prior notice.
*Please note that the names of companies and products described in this document are the trademarks or registered trademarks
of their respective companies and organizations.